Seizure triggers panic in city
Chandigarh, December 9
Panic prevailed in the city as national as well as international TV channels flashed the news about the arrest of six Nepalese "terrorists", carrying "huge amount of explosives" by the Chandigarh police.
The explosives seized from Nepal citizens by the Chandigarh police; and (right) the accused in police custody. Tribune photographs
Code Mess
Traffic cop suspended
Chandigarh, December 9
The sting operation by a Macchiwara resident, exposing "organised" corruption in the Chandigarh traffic police has put the cops on the defensive.



Eid passes off on sombre note
Chandigarh, December 9
The mood among the Muslims in the tricity was distinctly somber today, as the grief of the recent Mumbai terror attacks overshadowed Eid-ul-Zuha festivities.
| | |
| --- | --- |
| CALL OF FAITH: Muslim women pray outside the Jama Masjid on the occasion of Eid-ul-Zuha in Chandigarh on Tuesday. Tribune photo: Kamal Kishore | Muslims offer Eid prayers outside the Jama Masjid in Chandigarh on Tuesday. A Tribune photograph |
Human Rights Day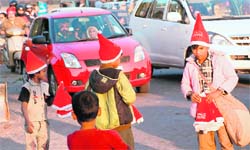 Slum kids deprived of basic amenities
Chandigarh, December 9
It is Human Rights Day and once again, the city is all set to revise and restate its pledge to protect the rights of all inmates.



Children sell Christmas caps in Chandigarh. A Tribune photograph
Flouting allotment rules with impunity
Marriages, parties a norm at Prajapati Bhavan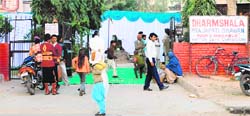 Chandigarh, December 9
Staying in Sector 38 A can be quite troublesome and residents opposite the Prajapati Bhavan know it way too well.



A view of the Prajapati Bhavan, Chandigarh. A Tribune photograph
Balu to inaugurate Dappar toll plaza
Zirakpur, December 9
The newly constructed Dappar toll plaza, near Dera Bassi, is being inaugurated tomorrow by the union minister for shipping, road transport and highways, TR Balu. Punjab Chief Minister Parkash Singh Badal and Haryana Chief Minister Bhupinder Singh Hooda would also be present there.
With plastic bags banned, shopkeepers make hay
Chandigarh, December 9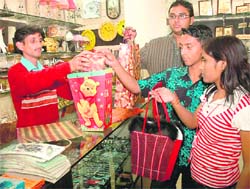 The Chandigarh administration's October 2 ban on plastic bags has provided a perfect opportunity to certain unscrupulous shopkeepers to fleece consumers. With the plastic bags banned, paper or cloth bags are being sold separately to buyers in a substantial number of department stores and retail shops, forcing customers to shell out as much as Rs 20 per bag extra.

Following a ban on plastic bags, paper bags have flooded the market but these come at a price.Tribune photo: Manoj Mahajan
NGO for anti-terror panel in all states
Chandigarh, December 9
A city-based NGO, Universal Human Rights Organisation (UHRO), at its general body meeting today urged the central government to establish anti-terrorism commission in each state to curb terror threat in the country.
Forgetting the dead
Some simply won't collect ashes
Chandigarh, December 9
Certain people are virtually abandoning the ashes of their dead at the city cremation grounds. In fact, in some cases, the ashes haven't been collected even after one year of the cremation as families of the deceased have failed to turn up.
Workshop on drug de-addiction
Chandigarh, December 9 The Citizens Awareness Group today organised a workshop on drug de-addiction at Government Primary School, Bapu Dham Colony, Sector 26, here today.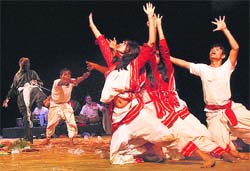 'Tritiya Yudh', a cogent play
Chandigarh, December 9
The Alternative Living Theatre, Kolkata, presented the 248th show of their play "Tritiya Yudh" on the third day of the ongoing national theatre festival being held at the Tagore theatre.



Artists perform at the Tagore Theatre, Chandigarh, on Tuesday. Tribune photo Vicky Gharu
Mahadevbhai to be staged on Dec 11, 12
Chandigarh, December 9
The Durga Das Foundation is organising Mahadevbhai, written and directed by Ramu Ramanathan and 60 Seconds Deep, a bi-lingual play directed by Jaimini Pathak on December 11 and 12, respectively.
Harjinder Kaur chairperson of Punjab Arts Council
Chandigarh, December 9
The former city mayor, Harjinder Kaur, has taken over the charge of the Punjab Arts Council as its chairperson at a ceremony presided over by Sukhdev Singh Dhindsa, MP, at the Randhawa Auditorium here today.
Letters
Corruption on the rise


Restriction of vehicles
PU students' centre gets deserted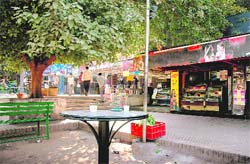 Chandigarh, December 9
While the Panjab University authorities claim to have curtailed the campus violence by restricting the entry of vehicles in the students' centre, the move is yet to gain any appreciation from the shopkeepers operating there.


A view of the deserted students' centre, Panjab University, Chandigarh, on Tuesday. Tribune photo: Manoj Mahajan