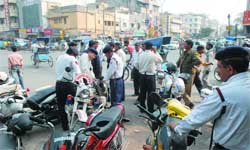 Delhi traffic police personnel remove wrongly parked vehicles at Arya Samaj Road, Karol Bagh, in New Delhi on Thursday. Tribune photo
Sheila, ministers likely to take oath on Dec 15
New Delhi, December 11
Sheila Dikshit, leader of the Congress Legislative Party (CLP), and her group of six ministers are likely to take oath of office and secrecy on December 15, sources said.
Change in BJP leadership expected
New Delhi, December 11
Leadership in the Delhi BJP is likely to be changed within a couple of weeks. This is being done after a demand from inside the BJP to change its leader due to the party's defeat in the assembly elections, sources said.
Rajender Nagar: BJP banks on sympathy vote
New Delhi, December 11
The BJP seems to be losing ground in Rajender Nagar constituency from where its leader late Puran Chand Yogi had enjoyed the support of the masses since 1993, when the Capital went to polls for the first time as a legislative assembly.
Khurana in charge of Rajinder Nagar polling
New Delhi, December 11
Former Chief Minister of Delhi, Madan Lal Khurana has been given responsibility of the election in Rajinder Nagar that is his test of strength. It is said inside a section of the party that had he been chief ministerial candidate of the BJP, the party would not have lost the Delhi assembly election.
Find serenity in minerals, rocks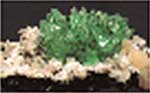 New Delhi, December 11
Do you want to feel the thrill of holding a dinosaur's egg and bones, a crater from the moon and the mars, saptrishi mandal meteor and stones or minerals in their crude form over 65 million years ago? Are you frustrated or pained and want to find solace?
Hunt on for Nigerians who left baggage in auto
New Delhi, December 11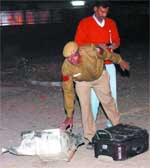 The two African nationals, who left behind their baggage in an auto rickshaw in Connaught Place and thus gave anxious moments to the security authorities last night, are still at large. Police has claimed to have got certain vital clues in the case and is verifying them.




A Delhi policeman checks the broken electronic safe and a suitcase at Baba Khadak Singh Marg, Connaught Place in New Delhi on Wednesday night. The luggage was left behind by the foreigners in an auto rickshaw. Tribune photo
Foreigners held with heroin
New Delhi, December 11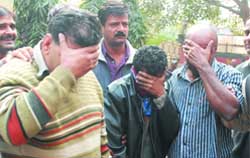 The special cell of the Delhi police has claimed to have succeeded in busting an international drug cartel and has arrested one Nigerian national and two Afghan nationals with 2.170 kgs of fine quality heroin worth over rupees two crore in the international market. With the arrests, Alok Kumar, DCP (special cell) claimed to have neutralised a drug cartel between Afghanistan, India and African countries.
Foreigners caught with heroin in New Delhi on Thursday. Tribune photo:Manas Ranjan Bhui
13 senior citizens murdered,1 raped this year
New Delhi, December 11
Thirteen murders and 26 attacks on senior citizens have been reported in Delhi this year, according to the statistics provided by the Delhi police till November 30. "Thirty-nine cases of attack on senior citizens have been reported in Delhi so far. If nothing untoward is reported in the month to go by, we can expect slightly lower figure of attacks on senior citizens this year than the 42 reported last year," said a senior police official in senior citizen cell.
Youth gets 10-year RI for rape
Noida, December 11
The fast track court of an additional district judge has sentenced a youth to 10-year rigorous imprisonment and a fine of Rs 10,000 for kidnapping and raping a minor girl in Harola village Noida. The youth had lured the girl to Bangalore. Court let off his father, giving him the benefit of the doubt.
Acid thrown on minor girl
Ghaziabad, December 11
Four young men intruded into the house of a dalit family in Hapur and after throwing acid on a minor girl fled away.
2 dead, 5 hurt in gunfire
Ghaziabad, December 11
Panic struck the entire Agarwal Market (five km from Bagpat town) last evening, as six armed men sprayed bullets on traders, killing two on the spot and wounding five others.
3 criminals held in encounter
Noida, December 11
The Noida Phase-II police has arrested three dreaded criminals of a gang in an encounter. Two revolvers and two stolen bikes were seized from them. One of the bikes is reportedly priced at over Rs one lakh.
Schoolkids protest against terrorism
Faridabad, December 11
Hundreds of students of Government Senior Secondary School of Old Faridabad today took out a procession against terrorism and in memory of those who lost their lives in the recent terror attacks in Mumbai.
Fighting HIV through photo exhibition
New Delhi, December 11
A photo exhibition dedicated to HIV vulnerable communities such as female sex workers, men having sex with men, transgender, children, including those orphaned by the disease and some living with it, opened in the Capital today.
Bulls to be micro-chipped in Trans-Yamuna
New Delhi, December 11
Though the Municipal Corporation of Delhi (MCD) has failed to check the stray cattle menace by way of inserting micro-chips, it is all set to use the technology to keep a tab on the movement of bullock carts in the Trans-Yamuna area of the Capital.
Inter-school IT Quiz held
New Delhi, December 11
Aditya Jain and Sameer Mittal from D.P.S School, R. K. Puram, walked away with the winners trophy following hands on quizzing held at the TCS IT Wiz conducted by Tata Consultancy Services (TCS).
MCD to solve zonal problems
New Delhi, December 11
The Municipal Corporation of Delhi (MCD) on Wednesday decided to invite chairman and deputy chairman of two ward committees in the weekly meetings of Standing Committee.
Court asks travel firm to pay compensation
New Delhi, December 11
A Delhi consumer court today asked a travel company, Cox and Kings to compensate a couple for deficiency in service as they were not given the correct details of the tour itinerary.