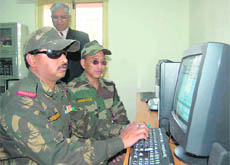 Lighting up lives
In view of increased casualties during WW-I, a training centre for blinded soldiers, sailors, and airmen was started in India and Dehradun selected for the purpose
Dehradun, December 11
They were once young, energetic soldiers, with a vision to serve their nation and earn glory for themselves. But their lives were plunged into darkness quite unexpectedly.
Soldiers use computers at St. Dunstanís rehabilitation Centre in Dehradun on Thursday. Tribune photo: Anil P. Rawat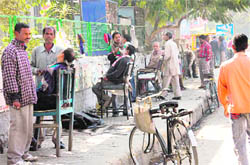 BARBAR LANE: Roadside barbers on Rajpur Road in Dehradun on Thursday. Tribune photo: Vinod Pundir
Caught napping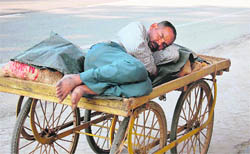 A rehriwala enjoys an afternoon siesta in Dehradun on Thursday. Tribune photograph: Anil P. Rawat
Recession hits state tourism
Dehradun, December 11
Global recession has taken a toll on the tourist inflow in Uttarakhand. According to the recent data tabulated by the state tourism department, this year there has been a dip in the number of tourists as compared to last year. While in 2008, as many as 2.22 crore tourists visited Uttarakhand, this year till October 31, the figure stood at 1,90,04,874. Sources in the tourism department said by the end of this year, the figure is unlikely to cross last yearís mark.
Doon Hospital has few specialists
Dehradun, December 11
So acute is the shortage of doctors at the super specialty department of the Doon Hospital that to tide over the problem, the authorities are increasingly relying on private doctors. They are offering them less working hours and a hefty salary package, more than that of government doctors. The hospital has hired the services of Dr Rajeev Tyagi, an endocrinologist, and Dr Anil Rathi, a cardiologist. With these two new appointments, the strength of private doctors has risen to six.