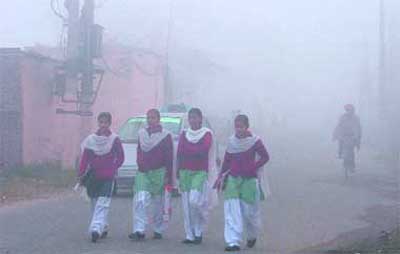 Fog is no deterrent for these school-bound girls in Ludhiana. Photo: Inderjeet Verma
Corruption Allegations
MC officials warned by mayor, commissioner
Ludhiana, December 12
After facing the wrath of MLAs and municipal councillors yesterday during the municipal house meeting, the municipal officials, including joint commissioners, and assistant commissioner had to face ire of municipal commissioner G.S. Ghuman and mayor Hakam Singh Giaspura, here today.
Misappropriation Charges
IMA executive body members resign
Ludhiana, December 12
In yet another development, members of the IMA's executive body today submitted their resignations following the allegations of misappropriation of funds, levelled by former district president.
Park Plaza gets stay on sealing notice
Ludhiana, December 12
The sealing of the five star hotel, Park Plaza, was deferred today as the hotel management claimed to have got a stay on the municipal corporation's sealing notice, here today.
5-year jail for husband
Abetment to suicide
Ludhiana, December 12
Court of Additional Sessions Judge M S Virdi has sentenced Sunil Singh of Badripur village, Payal, to undergo imprisonment for five years on the charges of abetting suicide to his newly wedded wife Jaswinder Kaur.


Economic Slowdown
With no buyers, realty sector feels the pinch
Ludhiana, December 12
The realty sector, after a long period of boom in the city, is now feeling the pinch of economic slowdown with no buyers for land or built-up properties simply because of worst ever liquidity crunch.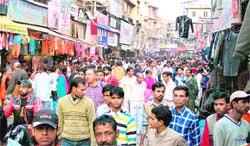 An overcrowded market in Ludhiana on Friday. Photo: Inderjeet Verma
Cut in Cenvat Industry wants more
Ludhiana, December 12
The Union government's decision to cut 4 per cent Cenvat (Central Value Added Tax) has been hailed but the industry in the state, which has been at the receiving end after the sales declined due to the global economic meltdown, wants more in terms of stimulus fiscal packages.
DC summoned again on Dec 17
Ludhiana, December 12
The presence of DC Sumer Singh Gurjar before the speaker, Vidhan Sabha, remained inconclusive yet again as complainant MLA Sohan Singh Thandal could not be present.
Bus operator fined Rs 500
Asked to remove erring driver
Mandi Ahmedgarh, December 12
Taking cognizance of dropping passengers at Pohir village instead of bringing them to bus stop here, the PRTC authorities have directed owners of the bus running under the KM scheme to remove erring driver, besides slapping a fine of Rs 500.
Renouncing the world at will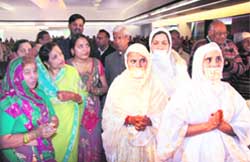 Ludhiana, December 12
Renouncing the world may sound unusual but it certainly is a gratifying moment for saints and sadhvis attaining "diksha" as was evident from the serene look on the faces of Prashansa Jain and Savita, who attained "diksha" today at Jain Bhagvati Diksha Samroh.

Jain Sadhvis at the Jain Bhagvati Diksha Samaroh in Ludhiana on Friday. Tribune photo: Rajesh Bhambi
Human Rights Day
Drug de-addiction need of the hour
Doraha, December 12
Human Rights Protection Mission organised a function at Queens Flower Resort Neelon in order to celebrate the Human Rights Day, here yesterday.
Sayian takes charge of MC Kilaraipur
Mandi Ahmedgarh, December 12
Leaders of various organisations, led by former minister Jagdish Singh Garcha, in charge of the SAD, Kilaraipur, felicitated the newly appointed chairman and other members of the market committee Kilaraipur at a function organised in the village yesterday. Sukhminder Singh Grewal, president the BJP investor cell, presided over the function.
BJP to hold protest against terror on Dec 16
Ludhiana, December 12
The BJP will hold a torch-light procession against terrorism here on December 16 to impress upon the union government to adopt a pro-active role against the cross-border terrorism. State president of the party Rajinder Bhandari will lead the procession from Clock Tower Chowk to Division No 3.
Vikas Manch elects council chief
Mandi Gobindgarh, December 12 Caring two hoots for the administration's decision to pospone the election of Municipal Council of Mandi Gobindgarh, councillors elected their council chief here yesterday. The election was scheduled for yesterday but when the councillors accompanied by their supporters reached the venue of election at Municipal complex, there was no one to conduct the election. A notice was put up by the executive officer (EO) for the postponement of the election.
Day-care centres, boon for working parents
Ludhiana, December 12
In the age of nuclear families where both parents are working, day-care centres are proving a boon. Rearing children have become a burden for the families today especially where the couple is working. As soon as the child is born, discussions for his/her quality rearing start up.
Job fair at RIMT
Mandi Gobindgarh, December 12
The training and placement department of the RIMT Group of Institutions, Mandi Gobindgarh, organised a job fair for the MCA, B.Tech computer science and electronics engineering students who will graduate in 2009. Fair was inaugurated by RIMT Group chairman Hukam Chand Bansal and its chief director general S.K. Ahluwalia was the chief guest.
Teachers raise slogans against DEO
Ludhiana, December 12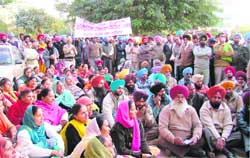 The Democratic Teachers Front, Punjab, organised a rally against the alleged highhanded and vindictive attitude of the district education officer (Secondary) in the mini secretariat here today. The teachers raised slogans against the DEO and sought her transfer.

The Democratic Teachers Front Punjab Ludhiana, organises a rally against the DEO in Ludhiana on Friday. Tribune photo: Inderjeet Verma
Science Congress
Rampur school stands out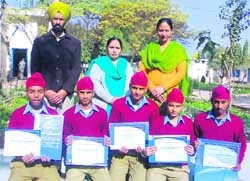 Doraha, December12
The team of Government High School, Rampur, has secured ninth position in the district-level science congress, which was organised at Punjab Agricultural University, Ludhiana, recently. Out of the 11 teams, this team was selected to perform in the state-level congress, shortly scheduled to be held in Nagaland.

The team of Government High School, Rampur, which won in the district science Congress at the PAU, Ludhiana, on Friday. A Tribune photograph



Kidnapped boy traced, woman held
Khanna, December 12
The Khanna police has recovered the boy who was kidnapped by a woman. The boy was picked up by an unidentified woman from his house on Lalheri road.
Two booked in fraud case
Mullanpur Dakha, December 12
A fraud case has been registered against two. Kulwant Singh of Khaira Bet village near Humbran has accused that Jai Inder Singh, alias Dimple of Rangarh Nangal village in Gurdaspur district and Sheikh Ram has lured him to send his son, Jagraj Singh, to the USA. He had taken Rs 13.6 lakh from April to June in installments.


FCI Soccer Tourney


Delhi, North Zone register wins
Ludhiana,December 12
Teams from FCI headquarters, Delhi, and the North Zone began their campaign on a sound note, wrapping up the matches comfortably in the 38th edition of the All-India Food Corporation of India (FCI) Inter- Zonal Football Tournament that commenced at Gsuru Nanak Stadium here today.