Highway expansion takes toll on trees
Talwandi Sabo, December 18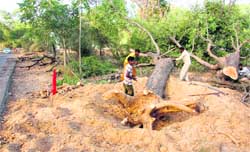 Widening of the Talwandi Sabo-Bathinda highway is taking toll on a large number of full-grown trees.





Full-grown trees being axed to widen the Bathinda-Talwandi Sabo highway in Bathinda on Thursday. Tribune photo: Kulbir Beera



Cut fuel prices by 30%: SAD
Bathinda, December 18
President of the SAD Sukhbir Singh Badal today asked the Central government to proportionately reduce the price of petroleum products in line with the reduction in crude oil prices. Sukhbir was talking to the media after laying the foundation stone of sewerage and water works projects in Bhucho Mandi here. He said the Central government should reduce the prices of petrol diesel by at least 30 per cent.
Oppn played spoilsport: NRI Sabha head
Jalandhar, December 18
Claiming that the annual NRI convention held on last Friday here not a flop show, Punjab NRI Sabha president Kamaljit Singh Hayre said some persons belonging to the opposition group had tried to disturb the programme.
CM: Need to develop embryo transfer tech
Chandigarh, December 18
Chief Minister Parkash Singh Badal today stressed the need to make use of the embryo transfer technology on a commercial scale to boost the growth of dairy and achieve the quantum jump in the milk production in the state.


Centre slams state for unutilised grants
Chandigarh, December 18
The Government of India has in a strongly worded letter to the Chief Minister reprimanded the state for not utilising the grants it gave to the state under a prestigious central scheme.
Lone bomb squad caters to VIPs
Ludhiana, December 18
The Punjab government seems to believe its bomb disposal squad has the power of a superman. For just one squad with the government is used to cater to the VIPs and commoners. Needless to say it is for the VIPs alone.
CBI wants death for Kandahar hijacker
Chandigarh, December 18
The Central Bureau of Investigation (CBI) wants death sentence for Abdul Latif Adam Momin. Convicted for his role in the hijacking of Indian Airlines flight IC-814 from Kathmandu to Delhi, he was sentenced to life imprisonment by a court in Patiala on February 5.
Development yatra from Dec 22
Chandigarh, December 18 Chief Minister Parkash Singh Badal will undertake a development yatra from December 22, which will cover four parliamentary constituencies in the first phase of 10 days.
Truckers put off strike
Jalandhar, December 18
The All-India Motor Transport Congress today postponed its strike.
Zee TV urges Badal to lift blackout
Chandigarh, December 18
Zee television today claimed it had brought the issue of blackout of its Zee Punjabi channel on December 16, after it telecast allegations against Shiromani Akali Dal (SAD) president Sukhbir Singh Badal, to the notice of Punjab Chief Minister Parkash Singh Badal and expected him to take prompt action in this regard.
Minorities Commission soon
Badal has said decks have been cleared for setting up of the Punjab Minorities Commission.
PSEB inks pact with Parbati Koldam
Patiala, December 18
Y.S Ratra, chairman, PSEB, said the board had signed agreement with Parbati Koldam Transmission Company Limited, a joint venture between Reliance Infrastructure Limited and the Power Grid Corporation of India to construct 457 Circuit km of 400 KV transmission line from Parbati Dam to Ludhiana at a cost of Rs 1,000 crore.
Bhagtawala mandi to go high-tech
Amritsar, December 18
In view of the globalisation of markets the government has decided to revamp the entire agriculture marketing stockyards by equipping it with high-tech systems besides mechanisations of the entire mandi operations.
Talent search exams for govt schools' students
Moga, December 18
The Education Department has introduced district-level and state-level talent search examinations in science and mathematics for the students of Class-XIII and only mathematics for Class-V students to identify brilliant students and nurture their talent.
Protesting anganwadi workers get appointment letters
Chandigarh, December 18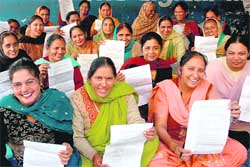 After a lapse of 12 years, the Punjab government finally bowed today and gave appointment letters to 48 anganwadi workers posted in various child development projects across the state.



Jubilant anganwadi workers show their appointment letters outside the office of the director, Social Security, Women and Child Development, Punjab, at Sector 34 in Chandigarh on Thursday. A Tribune photograph
Appointment of CEO challenged
Chandigarh, December 18
Punjab's action of appointing PPS officer Khushi Mohammed as the CEO of Punjab Wakf Board was today challenged. Describing the appointment as illegal and against the procedure prescribed in the Wakf rules, advocate Abdul Rashid questioned how the new appointee could do justice to the two jobs, especially when the distance between the two places of work was more than 100 km. The Board CEO is SP, Barnala, at present.


Septic tank case goes to Vigilance Bureau
Chandigarh, December 18
Punjab Vigilance Bureau is probing the matter pertaining to Rs 4 crore going down the drain due to installation of defective septic tanks in the villages. The information was given to the Punjab and Haryana High Court today by Punjab advocate-general Hardev Singh Mattewal during the hearing of a public interest litigation.


Multi-crore evasion detected
Chandigarh, December 18
The Punjab and Haryana High Court was today told the evasion of verification and stamping duty by two Ludhiana-based companies since 2003 was over Rs 8 crore. As the matter of duty evasion came before Chief Justice Tirath Singh Thakur and Justice Jasbir Singh, Punjab advocate-general H.S. Mattewal said Rs 5 crore was to be recovered from one firm, and the remaining from the other.