Childhood Lost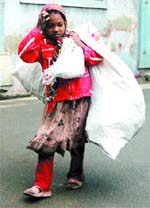 A girl ragpicker lost in a thought while carrying a bag on her shoulders in Amritsar on Friday. Photo: Vishal Kumar
Peace Process
Break in talks worries Pak intelligentsia
Amritsar, December 19
Panic and intense worry has gripped Pakistan's saner elements in the aftermath of the Mumbai mayhem with bonhomie and diplomatic thaw, which was set in motion a few years back, virtually in irreversible mode.
Blessing In Disguise
Badals' visits 'save' residents from
power cuts
Amritsar, December 19
Is it a sheer coincidence or well-orchestrated move of the Punjab State Electricity Board to withdraw all power cuts during the visit of Chief Minister Parkash Singh Badal or his son Sukhbir Singh Badal to the holy city.
Aman - a torchbearer of Punjabi poetry
Amritsar, December 19
The modern-day Punjabi poetry is incomplete without the mention of Bhai Veer Singh, Dhani Ram Chatrik, who were instrumental in laying the foundation of the Punjabi press, and Bawa Balwant, who hailed from the holy city.
Political backing might be keeping them stick to the place
Rail link road encroachers refuse to budge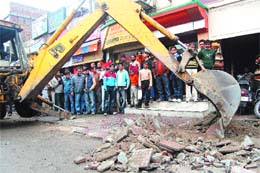 Amritsar, December 19
The encroachers, who occupy the railway link road round the year, once again faced the wrath of the municipal corporation which launched a major drive to dislodge them from the government property and the road here today.
The municipal corporation authorities demolish encroacments on the link road opposite railway station in Amritsar on Friday. Photo: Vishal Kumar
'Milestones' released
Amritsar, December 19
Stressing on the need of inculcating moral values in the professional life, teachers and students of the Amritsar College of Engineering and Technology have come out with a booklet "Milestones" which touches all the realistic and relevant issues from humanity to discipline, humour to time management and team work.
AIR's FM radio for Amritsar soon
Amritsar, December 19
All India Radio is all set to establish its FM radio station at Gharinda, near Amritsar. In a reply to USA-based writer Harjap Singh Aujla, Jitendra Arora, deputy director, engineering and planning, All India Radio, Akashvani Bhavan, New Delhi, said tenders had been invited for installing a high-power 20 KW transmitter and construction of a building at Gharinda, near Pakistan border.
Khel Abhiyan concludes
Tarn Taran, December 19
Host Punjab dominated on the concluding day of the first National Panchayat Yuva Krida Aur Khel Abhiyan for boys and girls under 16 at Guru Arjun Dev Stadium here yesterday. Khushi Ram, deputy commissioner, gave away prizes to the winners.
Award for painting
Amritsar: Akshpreet Singh, a student of class I of Spring Dale Senior School, received a merit certificate and a medal in an art competition by the Punjab Governor. In the contest, organised at the district and divisional levels by the Child Welfare Council Punjab under the aegis of Indian Red Cross, Akshpreet won the honour and won award at the state-level function. He painted a multi-coloured cat. — OC