Amarinder, Bhattal set for another face-off
This time over Youth Cong chief's post
Chandigarh, December 19
Punjab Congress bigwigs Rajinder Kaur Bhattal and Capt Amarinder Singh are set for another face-off, if their efforts regarding the election of the president of the Punjab Youth Congress to be held on December 23 is any indication. This is the first "democratic" election of the body.
SAD's youth wing using government PR office
Ropar, December 19
The District Public Relation Office (DPRO) of Ropar has extended its services to the Students' Organisation of India (SOI), the student body of Shiromani Akali Dal (SAD).


Cracker dealers file affidavits against Ludhiana DC
Ludhiana, December 19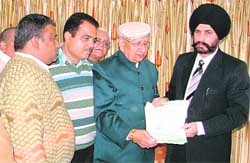 Trouble for deputy commissioner, Ludhiana, Sumer Singh Gurjar deepened today with local fire cracker dealers complaining to the divisional commissioner, Patiala division, Jasbir Singh Bir that they had allegedly paid Rs 45 lakh to him to get the cracker sites allotted in their names during Diwali.
Deputy Speaker of the Vidhan Sabha Satpal Gosain (second from right) submits affidavits of fire cracker dealers to divisional commissioner, Patiala division, Jasbir Singh Bir in Ludhiana on Friday. Photo: Inderjeet Verma
Rs 20 cr released under Shagun scheme
Bathinda, December 19
The Punjab government has released a grant of Rs 20 crore for being disbursed under the Shagun scheme to 13,333 newly married couples.
Light showers bring cheer to farmers
Jalandhar, December 19
Fall in temperature due to light showers in various parts of the state today have brought cheer to farmers in the region. For the past several days, farmers were keenly waiting for rain.
Education mess in Sangrur dist
Sangrur, December 19
It is a matter of concern for all education-loving people that hundreds of teaching and non-teaching posts have been lying vacant in the Education Department in the district due to which not only the studies of students, but also the administration related work in many high and senior secondary schools, has been affected adversely.
Punjab to launch pentavalent vaccine
Chandigarh, December 19
In addition to introduction of hepatitis-B vaccination as part of the routine immunisation programme in Punjab in January 2008, the state is now poised to launch pentavalent vaccine (a single vaccination injection comprising diphtheria, pertussis, tetanus, hepatitis-B and vaccines Hi-b) in 2009.


Gill denies allegations
Chandigarh, December 19
Punjab former DGP K.P.S. Gill today said the story of human rights activist Jaswant Singh Khalra being interrogated by him was concocted.


Rape case against Cong councillor
Sangrur, December 19
On the statement of the mother of an alleged rape victim, the local police today registered a case against Anupam Kumar, alias Pompy (a local Congress municipal councillor) and five others under Sections 376, 366-A and 120, IPC.