Initiative to revive art of letter writing
National-level contest on Jan 4
Jammu, December 19
In an era of e-mail and SMS, is the art of letter writing being relegated to some inaccessible remote corner, especially among the present computer savvy generation?
Despite strict norms, child labour continues
Jammu, December 19
Notwithstanding strict norms against child labour thousands of children can be seen doing petty works at eateries, juice corners, kilns, garages, shops, godowns or picking up rags, collecting and rinsing utensils at ceremonial functions or begging at crowded places in the city.
Abdullah's charisma vs Mufti's intellect
Srinagar, December 19
The campaigning styles of National Conference patron Farooq Abdullah and his PDP counterpart Mufti Sayeed, both projected as chief ministerial candidates by their parties, are a study in contrast.
Students' message: Exercise voting right judiciously

Jammu, December 19
At a time when the political parties are busy wooing the electorate, the Progressive Students Association (PSA) has set out on a campaign to sensitise the people on how to utilise their right to vote in the best interests of society.
A poster put up by the Progressive Students Association on the Jammu University campus. Photo: Inderjeet Singh
Water shortage in Rajouri villages continues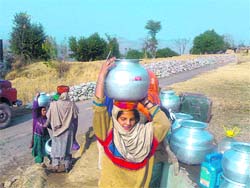 Rajouri, December 19
The state government may be planning to introduce e-governance in Jammu and Kashmir, but it has failed to provide clean drinking water to villages on the outskirts of this township. People living in villages near here have to suffer due to the acute shortage of drinking water supply.

Women fetch water from a tanker on the outskirts of Rajouri town. A Tribune photograph
Tailor with passion for poetry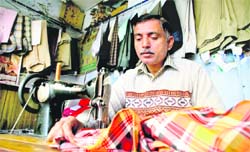 Jammu, December 19
Ramesh Rahi, a tailor by profession, has made a mark as a talented Dogri poet in a short span of time. Interestingly, he is not much educated and cannot write himself, but has immense talent of writing poetry, ghazals and short stories. "I can only write my name," he averred.
Tailor Ramesh Rahi who is also a Dogri poet. A Tribune photograph
Floriculture yet to pick up in Kashmir
Srinagar, December 19
Despite having a huge potential, floriculture in the Kashmir valley is yet to pick up. Obsolete marketing strategies, high transport costs and above all lack of support from the government are acting as a dampener to activities being carried out under floriculture.