X'mas round the corner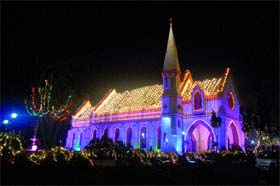 A view of the illuminated St Paul Church in Amritsar on Monday. Photo: Vishal Kumar
Row over shifting of dispensary in ESI hospital
Amritsar, December 22
A controversy has erupted over the shifting of dispensary to first floor in the local employees state insurance hospital with local committee members of the ESI Corporation urging its regional director G.C. Jena and Y.C. Markan, director, health services, besides other authorities concerned to cancel the shifting immediately.
Lukewarm Response
MC postpones hotel site auction
Amritsar, December 22
After getting lukewarm response to the public auction of a hotel site in the close proximity of Golden Temple, the municipal corporation authorities today deferred the auction proceedings till further information.
Act against global warming, varsities told
Amritsar, December 22
Showing concern over global warming, internationally renowned geologist Dr Arun Deep Ahluwalia appealed the universities, especially teachers, to come forward to steer the programme initiated by former President APJ Abdul Kalam on planet Earth.
Banks earn DC's ire for poor services
Hoshiarpur, December 22
The standard of services provided by the banks has been deteriorating day by day, said Hoshiarpur deputy commissioner N.K. Wadhawan. Presiding over the meeting of District Advisory Committee arranged by a leading bank for reviewing the ongoing work of all the banks here today, the DC said his office was receiving complaints in this connection regularly.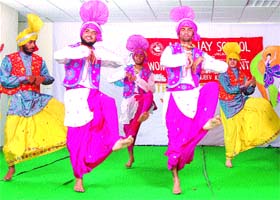 Students of APJ School, Rama Mandi, perform bhangra during the annual function in Jalandhar. Photo: Suryakant
Sarwan Singh is Phillaur market committee chief
Jalandhar, December 22
Sarwan Singh took over as the chairman of the market committee, Phillaur, today. Accompanied by his supporters and friends, he reached the office of the committee and was garlanded by officials and escorted to his office.
Sartaj lights up mehfil
Nawanshahr, December 22
The local Rotary Club organised a cultural evening 'Mehfil-e-Sartaj' here at JSFH Khalsa High School on Saturday. SSP, Shashi Prabha Dwivedi, inaugurated it by lighting the lamp.
Dhand re-elected Bar chief
Amritsar, December 22
Advocate VK Dhand was today re-elected president of the association. Dhand defeated his opponent advocate Bhagwant Singh Sialka by a margin of 165 votes. He polled 571 votes while Sialka managed to get 306 votes in the election.
Undertrial escapes, held
Nawanshahr, December 22
The city police succeeded in nabbing an undertrial, Lakhbir Singh, alias Beera , who had managed to flee from the local judicial court here today by giving a dodge to the police.
957 cases solved at lok adalat
Nawanshahr, December 22
As many as 957, out of the total 1,643 cases presented before the four different benches on the second day at the mega lok adalat, here were settled and compensations amounting to Rs 65.33 lakh were sanctioned.