Looking Ahead-II
Political dissensions may not alter equations
Chandigarh, December 29
The Shiromani Akali Dal-Bharatiya Janata Party (SAD-BJP) alliance may face a combined opposition in a year of heightened political activity.
Leadership sees no rift in Cong
Chandigarh, December 29
From the response of RC Khuntia, secretary, All-India Congress Committee, and Mohinder Singh Kaypee, president, Punjab Pradesh Congress Committee, to the happenings in the party, all appears well. According to the two leaders small incidents of infighting are signs of health atmosphere in the party and these should not be taken as internecine conflict.
Endoscopic surgery eliminates incision-related problems
Ludhiana, December 29
Having pioneered the most advanced surgical procedure NOTES (natural orifice transluminal endoscopic surgery), Dr GV Rao, an experienced surgeon in minimally invasive surgery, delivered the keynote address at the Annual Conference of the Association of Surgeons of India (ASICON-2008) here today. Dr Rao, chief of gastrointestinal and minimally invasive surgery at the Asia Institute of Gastroenterology, while talking to The Tribune, said: "NOTES was introduced in India in 2003 with the surgery of a 36-year-old man suffering from acute appendix.


Dr GV Rao
Chief secy to head panel on power rates
Jalandhar, December 29
Chief secretary Ramesh Inder Singh will head the committee set up by Punjab government to negotiate power rate with a private company selected to set up a thermal plant at Rajpura near Patiala.
'Greater autonomy to cooperative societies'
Chandigarh, December 29
Punjab would amend various legislations guiding the functioning of cooperatives to grant greater autonomy to cooperative societies and decentralise powers from the bureaucracy to the stakeholders.
Farmers lay siege to corpn office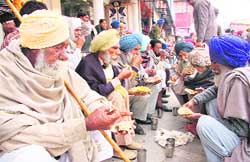 Bathinda, December 29
Lodging a protest against the alleged "anti-farmer" attitude of the Cotton Corporation of India (CCI), hundreds of activists of six farmer unions started a 72-hour gherao of the regional office of the CCI here today.



Farmers take lunch outside the office of the CCI in Bathinda on Monday. Photo: Kulbir Beera
Only 3 passengers for bus to Lahore
Amritsar, December 29
Gurpinder Singh today cancelled his ticket for scheduled travel to Lahore on January 3. Besides, there are only three persons to board the Punjab Roadways bus to Lahore tomorrow morning. Earlier, nine passengers had arrived here from Pakistan on December 27.
| | |
| --- | --- |
| Pakistani passengers wait for the Samjhauta Express at the Attari railway station on Monday. A Tribune photograph | A resident of Amritsar fills up a form on Monday to get his ticket of the Lahore-bound bus cancelled. Photo: Vishal Kumar |
India, Pak citizens cut short visit
Amritsar, December 29
Responding to Indian advisory against travel to Pakistan, many Indians and Pakistanis today cut short their visit and returned to their native countries by the Samjhauta Express at the International Attari Railway Station here today.
Doctors reserve opinion on cause of Bhullar's death
Chandigarh, December 29
The police today handed over the body of Gurdip Singh Bhullar, a sitting Shiromani Akali Dal (SAD) MLA from the Nurmahal constituency in Punjab, who was found dead in his room at MLA Hostel, Sector 4, here on Sunday. Doctors reserved their opinion on the postmortem report and sent the viscera for chemical examination to ascertain the exact cause of the death.
PTA funds under scanner
Punjab marks inquiry in govt schools
Chandigarh, December 29
The Punjab government has instituted an inquiry into the utilisation of parent teacher association (PTA) funds of government schools in the state. This follows the discovery of irregularities in spending of these funds for shifting of computer labs in government schools.