Centre's bias hurting us: Kanwaljit
Jalandhar, January 3
Discrimination on the part of the Centre was one of the major reasons for the economic downslide of Punjab.
CPI against SAD doling grants in Oppn areas
Sangrur, January 3
Opposing distribution of development grants by Shiromani Akali Dal leaders (SAD) in the constituencies of MLAs belonging to the Opposition in the state, the Communist Party of India (CPI) today asked Chief Minister Parkash Singh Badal to stop this practice as it amounted to discrimination against elected representatives of other parties.
Khaira seeks probe into 'SAD control' over cable network
Chandigarh, January 3
Punjab Congress leader Sukhpal Singh Khaira has demanded a CBI inquiry into what he termed as capture of the cable television network business in Punjab by two companies at the behest of Shiromani Akali Dal (SAD) president Sukhbir Singh Badal with the support of the state machinery.


Farmers want dues soon
Batala, January 3
Braving severe cold, farmers of this subdivision, led by Ashwani Shekri, convener, Congress' state election campaign committee, today blocked traffic on Batala-Gurdaspur national highway for about two hours to lodge their protest against the failure of the SAD-BJP government to make payments to farmers against the sale of sugarcane and basmati paddy.
Makkar's resignation sought
Chandigarh, January 3
Objecting to the recent controversy on the issue of "Sehajdharis of the Panth", a human rights organisation - "Lawyers for Humanity" and Sikh youth of Punjab have demanded the resignation of president of Shiromani Gurdwara Prabandhak Committee (SGPC), Avtar Singh Makkar.
Poor nestle with this Kiwi
Moga, January 3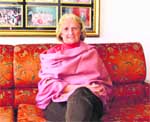 She might be from New Zealand, but her heart beats for India. Patricia Steinkamp, a self-effacing woman, who has been living here for the past more than six years, has brought a significant difference to the lives of the poor, destitute and sick of this town. This 60-year-old New Zealander lives with her husband who is a factory manager in Nestle's local industrial unit.
Patricia Steinkamp
He lit up Punjab differently
Patiala, January 3
The man behind conversion of rural Punjab into power-saving CFL-lit clusters of villages has finally hung his boots after putting in 35 years of hard work at the Punjab State Electricity Board (PSEB).
Badal's finger caught in car door
Ludhiana, January 3
Chief Minister Parkash Singh Badal received three stitches on the middle finger of his left hand that was accidentally crushed in the door of his official car when he stepped out to attend a function in Muktsar today afternoon.