Twin blasts leave 10 dead in Pak
Islamabad, January 4
At least 10 people, including five policemen, were killed and 25 others injured in twin attacks in the northwestern Pakistani city of Dera Ismail Khan today, officials said.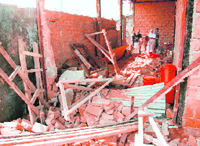 Four killed as strong quakes
strike Indonesia
Jakarta, January 4
A series of powerful earthquakes off the northern coast of West Papua, Indonesia, early today killed four people, injuring several others and flattening buildings, officials and local television said.
A series of powerful earthquakes off the northern coast of West Papua, Indonesia, killed four people and injured several others on Sunday — Reuters photo

'FBI shares evidence with Pakistan'
London, January 4
The FBI has given to Pakistan evidence amassed by it on involvement of elements based in that country in the Mumbai strikes, including on the LeT handlers' warning to the attackers about the arrival of Indian commandos while watching the mayhem live on TV, a media report here said today.
23 killed as Israel vows to 'intensify' strikes
Jerusalem, January 4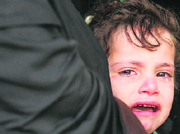 Describing the ground offensive in Gaza as
"unavoidable", Israel has pledged to extend and
"intensify" the operation, even as the heavy
exchange of fire between troops and the Hamas
militants that have taken the death toll in the
coastal territory beyond 500.

A Palestinian girl cries during the funeral of her brother who was killed after an Israeli air strike in the northern Gaza Strip on Sunday. — Reuters photo

World's longest causeway for Gulf region
Dubai, January 4
The world's longest marine causeway, a $3 billion project which will link Bahrain and Qatar, will come up in the Gulf region by 2013.
Suicide bomber kills 35 in Baghdad
Baghdad, January 4
A female suicide bomber killed 35 civilians, including women and children, and wounded 65 others on a religious march near the Kadhimiyah shrine in northern Baghdad today, a government official said. "A woman wearing an explosive belt blew herself up near one of the gates of the shrine," spokesman for security operations in Baghdad Qassim Atta said. — AFP
Low-income expatriates denied visa in UAE
Dubai, January 4
Expatriates from 57 occupations like cooks, bakers, grave diggers,etc. have been banned by the UAE from bringing their families to live with them.
Somali kidnappers release two journalists
Bosasso (Somalia), January 4
Somali kidnappers had freed two foreign journalists abducted last November in the northern port of Bosasso, local officials said today.
Daughter's lyrical tribute to Benazir
Islamabad, January 4
Bakhtawar Bhutto Zardari, the 18-year-old daughter of slain former Pakistani premier Benazir Bhutto, has poured out her anguish at the death of her mother by writing and performing a rap song in her memory.
Washington welcomes first family
Washington, January 4
Incoming US President Barack Obama and his family arrive in Washington this weekend, in time for him to work on an urgent economic recovery plan and his daughters to start classes at their new school.