Office Mantra
And the winner is... Attitude
Do you 'work to live' or do you 'live to work'? The response may pretty much define your success at the workplace
RAKESH, an MBA student, had passed out from a reputed university in 2001. The company placement trend was just gaining popularity. Having cleared the technical rounds, Rakesh was to face the personal interview. While the major part of the interview was smooth sailing, the final question was something Rakesh will never forget. He was asked the similarity between a lady and a handkerchief.

Careercature
Sandeep Joshi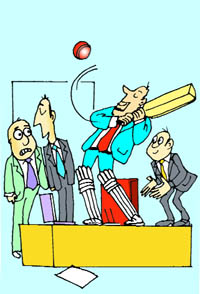 Sir, it was you who encouraged sports activities to de-stress the staff.

Playing safe
Grads from elite UK varsities choose safer jobs despite lower salaries
THE global economic crisis has led hundreds of elite graduates to eschew careers in finance in favour of lower-paid but "safer" jobs such as math. Given the high level of debt currently being accrued by students because of fees, the news that their job prospects will be diminished owing to the economic downturn will be extremely worrying for those who are prepared to graduate in 2009.
Course chat
Global healthcare
Take a course & hop aboard the medical tourism bandwagon. Here is how
WITH a view to create a corps of professionals to attract foreign patients to get treated at Indian hospitals, the Institute Of Clinical Research India (ICRI) will now offer full and part time MBA programmes in medical tourism and healthcare management across its six campuses in the country.
Thumbs up for Indian education
EVEN AS a large number of Indians spend millions of rupees every year to pursue higher education in the United States, India's school education has inspired a documentary by an American businessman who believes it is superior to that of his country.
Career Hotline


Weigh the pros & cons
Q. Both my parents are doctors so it was always taken for granted that I would also follow in their footsteps. I like the idea of doing medicine because I know what is entailed, but on the other hand, I have not explored any other option. Am I doing the right thing?
Food for Thought
Golf could make you deaf
PLAYING golf can make you deaf, say doctors, who warned that golfers using latest generation of titanium drivers should wear earplugs to protect them from noise.
Labelling problem children does more harm than good
LABELLING children as those with learning and behavioural difficulties can be detrimental to them and their teachers as well, says a new study. Linda Graham of Queensland University of Technology (QUT) found that children labelled as having "ADHD-like" (attention-deficit hyperactivity disorder) symptoms, for example, were at a disadvantage when it came how people perceived them.