Career Hotline
Weigh the pros & cons
Pervin Malhotra
Q. Both my parents are doctors so it was always taken for granted that I would also follow in their footsteps. I like the idea of doing medicine because I know what is entailed, but on the other hand, I have not explored any other option. Am I doing the right thing?
— Vinit Thukral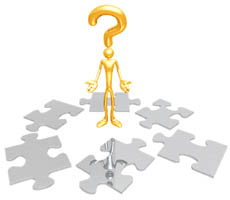 A. If you grow up seeing your parents enjoy what they do, it's natural to think about doing it yourself. Going into the same career can give you major advantages. You will not only have grown up seeing what is required in the job, but also what is required to succeed in it. Without realising it, you will have picked up a whole lot of 'inside' tips just listening to your parents talk about their work at the dinner table. Being able to bounce off ideas also makes a big difference, besides strengthening family bonds. You also have a readymade list of contacts that can make your entry into the field a lot easier.
The only flipside I can possibly think of is being "pressured" to measure up if your parents have been very successful in their field. But that can act as a great spur to better your achievement, which is a good thing.
It is equally important to consider your own interests and aptitude carefully because they can help you find a rewarding career. Some other factors must also be examined when exploring educational and career opportunities. Think about how your interests, abilities, experiences, personality, and values will influence your satisfaction and success. These factors are also important in career exploration — just as important as your interests. For example, certain fields require a lot more study and work than others. If you find that hard work and study don't quite appeal to you, do take this into account when considering a career.
Try your hand at teaching
Q. After doing my bachelor's in hotel management from IHM, Meerut, I have been working at a time-share property for two years. I am not too happy in my job and feel that I am very good at teaching and explaining things to others. Are there any recognised courses that I could take up to be eligible to teach or go into training?
— Gopika Vasvani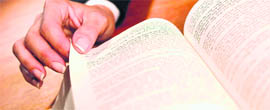 A. The National Council for Hotel Management & Catering Technology, Noida and IGNOU offer a two-year certified hospitality trainer programme at IHM, Library Avenue, Pusa Complex, New Delhi, & IHM, CIT Campus, TTTI-Tharamai (PO), Chennai.
Eligibility: B.Sc (hospitality and hotel administration) from NCHMCT & IGNOU/ Bachelors degree in hotel management
Assistanceship: Rs 4,000 a month for all candidates
Website: ww.nchmct.org
Later, with a few years of experience as a trainer, you can go in for the certified hotel administrator programme or the certified human resources executive programme offered by the American Hotel & Lodging Educational Institute, which are globally recognised certifications.
Have your cake, eat it too
Q. I will be completing class 12 this year. I am keenly interested in a career related to civil engineering or construction management. Please suggest a suitable option other than in the field of architecture.
— Sukhbir Jinda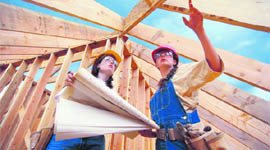 A. One suitable option you could consider is quantity surveying. A surveyor is a professional who is fully conversant with the technical, building and engineering aspects of construction as well as with the commercial aspects related to contracts. It is this combination of skills that makes him so valuable.
A qualified surveyor performs a variety of tasks related to construction. He takes detailed measurements from the plan once an architect has approved it. Before the construction goes on-line, the QS calculates the costs involved, prepares schedules to be priced by tenders for the purpose of valuation in lump-sum contracts. He assists in negotiating and obtaining quotations and administering the contract. He may also be required to serve as an arbitrator when needed.
As far as employment prospects are concerned, skilled QS professional is in demand in both the public and private sectors — in India and abroad. Various government departments like the Military Engineering Services (Ministry of Defence), Ministry of Surface Transport, NPCC and corporates hire these specialists. Often, the QS functions as an independent consultant either alone or along with architects/ engineers, who are qualifield surveyors.
A 10+2 or equivalent with PCM from a recognised institution is the basic eligibility for admission to the surveyors course. The exams (first, intermediate, final and direct finals) are conducted by the Institution of Surveyors, New Delhi, for building & quantity surveying and other branches of surveying twice a year at various centres in the country.
Guru Gobind Singh Indraprastha University, Delhi, also offers a B.Tech in Project Management, Quantity Surveying & Contracting in association with CIDC.
Reading between political lines
Q. I have been avidly watching political analysts discuss Indo-Pak affairs on our news channels following the Mumbai terror attack. I would love to do that! How can I become one?
— Nakul Gandotra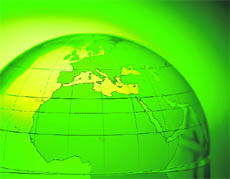 A. A political analyst is someone who keenly observes the contemporary political situation, both nationally and internationally, and makes his observations on them. Political analysts support policymakers by evaluating the goals and motivations of foreign governments. They examine their culture, values, society and ideologies; their resources and capabilities; their political and decision making processes; the strengths and weaknesses of their strategies for achieving their goals; and the implications of all of the above for the country's interests.
Of course we also see a lot of them in the media as well. You just have to flip through the edit pages of our national dailies or on television to see these worthies hopping from news channel to news channel — holding forth 24/7!
A political analyst often has a degree in political science and may be associated with a research institution. However, most analysts however get an opportunity to express their views on a regular basis only after years of experience in writing on the subject – unless you are contributing to your own blog (and there are plenty such on the Net, some of which make for fascinating reading).
Typically, most of the analysts you see on TV are either senior / retired bureaucrats, ex-Generals, defence analysts, politicians or veteran journos. Besides an ability to express one's views clearly and objectively, the most important requirement for anyone wanting to be a political analyst is a keen interest in politics and sufficient knowledge about historical trends. And in this age of specialisation it would help to specialise in a particular region — China, Middle East, South Asia etc.
This column appears weekly. Please send in your queries, preferably on a postcard, along with your full name, complete address and academic qualifications to:
Editor, Jobs and Careers, The Tribune, Sector 29, Chandigarh-160030, or at careers@tribunemail.com