Inter-caste Marriages
Govt to double incentive
Chandigarh, January 7
The Punjab government has decided to further the national integration agenda by encouraging inter-caste marriages. The state government is all set to increase the "encouragement award" paid to inter-caste married couples from the current Rs 25,000 to Rs 50,000. The incentive amount is paid to such couples as part of the protection of civil rights act.
Migratory birds prefer Nangal wetland over Ropar
Ropar/ Nangal, January 7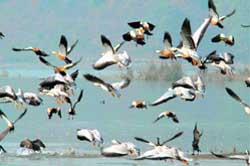 The winged visitors this season have changed their preference from international Ropar wetland to Nangal wetland. While, Ropar wetland area registered just 1,500 to 2,000 migratory birds this season, the same number was around 20,000 for the Nangal wetland.





Bar-headed geese frolic at the Nangal wetland. A Tribune photograph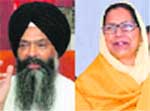 SAD names candidates for Patiala, Faridkot
Jalandhar, January 7
Senior Akali leader Prem Singh Chandumajra will be SAD's candidate for the Patiala Lok Sabha constituency and Paramjit Kaur Gulshan will from the Faridkot constituency. An announcement in this regard was made here today by Chief Minister Parkash Singh Badal.
Prem Singh Chandumajra and Paramjit Kaur Gulshan
Deploy CRPF for fair polling: Soni
Hoshiarpur, January 7
In view of the deteriorating law and order situation and hooliganism of SAD-BJP workers in Punjab, the Election Commission of India should hold the forthcoming Lok Sabha elections under the supervision of the Central Reserve Police Force (CRPF) in the state for fair and impartial polling. This was stated by Union Minister for Tourism and Cultural Affairs Ambika Soni while talking to mediapersons at Garhshankar, 40 km from here, this afternoon.
Badal lashes out at Centre
Jalandhar, January 7
The Centre's biased attitude towards Punjab can be gauged from the fact that Punjab is the lone state in the country to be without a capital.
Youth Cong alleges misuse of central funds
Gurdaspur, January 7
The Punjab Youth Congress (PYC) will not allow the ruling SAD-BJP alliance to commit atrocities on Congress workers and would give befitting reply to such actions of the state government.


Urban girls don't want their kind
Amritsar, January 7
Efforts of the Health Department and NGOs to arrest the trend of female foeticide notwithstanding, higher secondary school girls from urban areas don't want to be mother of girl child.
BKU (U) warns admn against forcible possession of land
Sangrur, January 7
In protest against the alleged forcible acquisition of more than 17 acres (situated on the Sangrur-Sunam road) by the Improvement Trust (IT) for its Mansahia Nagar scheme here, the Bharatiya Kisan Union (Ugrahan) today warned the administration that it would not allow the IT authorities to take the possession of the acquired land of residents of houses and farmers of the area at any cost.
Farmers to stop trains tomorrow
Amritsar, January 7
The Kisan Sangharsh Committee (KSC), Punjab Kisan Sabha, Bharti Kisan Union Ekta (Ugrahan), Kirti Kisan Sabha and Punjab Kisan Union have jointly announced to stop railway movement at Mansa and Rampura Phul (Bathinda) on January 9 against being given less rate for the cotton crop.
Vehicles remain with ministers, protected persons
Chandigarh, January 7
Ministers as well as protected persons in Punjab continue to retain their escort vehicles in the absence of formation of any clear-cut policy on the issue.
Sarpanches involved in save-energy drive
Chandigarh, January 7
The Punjab government today took a novel lead to involve elected representatives at the grassroot level i.e. sarpanches in the energy conservation drive to make it a people's movement.
Power staff hold protest
Patiala, January 7
Employees of the PSEB held a rally in collaboration with farmer organisations here today to demand the scrapping of the Electricity Act of 2003.
Mann sees RSS hand in Sehajdhari issue
Amritsar, January 7
Now, directions to the SGPC regarding the definition of a Sehajdhari Sikh come from Nagpur.
Princess of Faridkot cremated
Faridkot, January 7
Princess of Faridkot state Devinder Kaur, who died at the PGI, Chandigarh, yesterday, was cremated here this evening.


CM caught in crossfire of police officers
Chandigarh, January 7
The Punjab and Haryana High Court may have been behind the preparation of the new police officers gradation list in Punjab, but it is Chief Minister Parkash Singh Badal who is caught in a crossfire with as many as 25 officers trooping in to meet him in support of the new list today evening. Earlier, representatives from among a dozen officers who are likely to be demoted once the new list comes into force had met the Chief Minister demanding their seniority be maintained.
Consider additional storage space: HC to Punjab
Chandigarh, January 7
The Punjab and Haryana High Court says it expects Punjab to seriously consider the issue of increasing the storage capacity, in case of deficiency.
Relief for lecturers
Chandigarh, January 7
Lecturers serving for years in privately managed recognised colleges before being selected and appointed to the government-run colleges in Punjab are entitled to benefit of past service in private colleges.