Begging on rise in Jammu
Jammu, January 9
Much to the chagrin of the people, the city of temples has now become a city of beggars where the menace has been constantly on rise. Beggars are found everywhere-be it shopping malls, markets, shrines like Bawe Wali Mata, Raghunath Temple, Ranbireshwar Temple, mosques, bus stand and the railway station.


Restoration work begins at Harappan site
Jammu, January 9
In view of the historic significance of the site, the tourism department is raising concrete structures near the historic Akhnoor Fort at the Harappan site on the right banks of the Chenab.

The historic Akhnoor Fort where the ASI has started restoration work. Tribune photo: Anand Sharma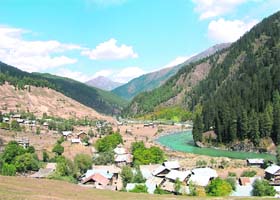 The scenic Gurez valley in Bandipore district.
A Tribune photograph
Srinagar's Sunday market gains popularity
Srinagar, January 9
Catchy phrases, rhythmic slogans and discount offers. Welcome to Srinagar's Sunday market! Roads leading to Poloview (the venue of the Sunday market) from Radio Kashmir, Regal Chowk, Lal Chowk, Amira Kadal Bridge, Goni Khan, Hari Singh High Street and Batmaloo witness people make a beeline for the market.
Patnitop's ropeway project hangs fire
Patnitop, January 9
The picturesque hill resort of Patnitop is witnessing huge influx of tourists after the season's first snowfall, but they are not interested to stay here for more than a day or two due to the non-availability of adequate infrastructure.


Tonga still a vital transportation mode
RS Pura (Jammu), January 9
Having a ride on a tonga may be a novel experience for many in the urban areas in modern times, but tongas still serve as an important mode of transportation for inhabitants in the border areas of RS Pura and Suchetgarh.

People travel on a tonga in a border village in Jammu. A Tribune photograph