Sukhbir's aim — power surplus Punjab
Gurdaspur, January 9
To make Punjab a power surplus state is on the development agenda unfolded by president of the SAD Sukhbir Singh Badal here today. To achieve this aim, Sukhbir has virtually been functioning as the chief executive officer of four proposed mega thermal power projects.
Give SAD a chance: Harsimrat
Bathinda, January 9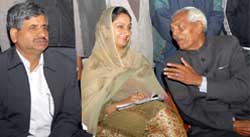 On the second day of her mass contact campaign here today, Harsimrat Kaur Badal, wife of SAD president Sukhbir Badal, urged people to give a chance to the ruling SAD to represent the Bathinda Lok Sabha seat by voting for the party's candidate.

Harsimrat Kaur Badal with senior SAD leaders Sarup Chand Singla and Chiranji Lal Garg in Bathinda on Friday. Tribune photo: Malkiat Singh



Inside Babudom
'Nepotism in PCS nominations'
Chandigarh, January 9
If anger expressed in their representations to the Chief Minister and other senior functionaries of the state by various organisations of aggrieved employees are any indication, recommendations made by the state government to the Punjab Public Service Commission for nomination to the Provincial Civil Service (PCS Executive Branch) smack of nepotism.
Appointment of Ayurveda director under scanner
Chandigarh, January 9
The Punjab government that procrastinated for 25 years for filling the post of director, Ayurveda, when woken from its slumber, could not wait for a single day to notify new rules that would make the newly appointed incumbent "ineligible". To put it more simply, the government notified new rules only after it managed to get a preferred candidate securely into place.
Relax norms, say basmati exporters
Amritsar, January 9
Rupees 4,300-crore basmati export business in the country has been facing a crisis with there being no takers for Rs 6,000 crore worth of paddy in the world.
Clear cane arrears, CM tells Sugarfed
Chandigarh, January 9
Chief Minister Parkash Singh Badal today directed Sugarfed to clear cane arrears of all state co-operative sugar mills amounting to Rs 28.90 crore for the last crushing season positively by January 31.
Power crisis: Farmers suggest way out
Jalandhar, January 9
As prolonged power cuts in the domestic sector and inadequate power supply to the farm sector has started hitting the economy hard, the Bharti Kisan Union has urged the Punjab State Electricity Board (PSEB) to provide power for eight hours to the farm sector at least on alternate days if it is not possible daily.
Advisory panels for Sangrur
Sangrur, January 9
As the Chief Minister feels that the participation of the public in the administration improves its functioning, Sangrur district will soon have 10 district advisory committees, besides 10 subdivisional advisory committees in each subdivision of the district. These committees are being formed for 10 departments, namely excise and taxation, public health, police, education, electricity, irrigation, food supply, urban amenities, SCs/BCs and social security.
6 towns to get 100% water supply
Chandigarh, January 9
The Punjab Water Supply and Sewerage Board today announced that six towns viz Ropar, Nangal, Balachaur, Garhshankar, Mahilpur and Anandpur Sahib will be provided with100 per cent water supply and sewerage facilities.
Blows exchanged over gurdwara headship
Sangrur, January 9
Over the issue of handing over of headship (post of chief administrator) of Gurdwara Sachkhand Angitha Sahib, Mastuana Sahib, near here, supporters of two sides exchanged blows at the gurdwara during the bhog of "mukh sewadar" (chief administrator) Sant Baba Roor Singh, who had died on January 2. However, the police intervened before anyone could be injured.
Canada Sikhs for langar edict review
Amritsar, January 9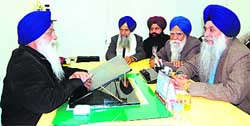 A delegation of Canadian Sikhs, led by Giani Kewal Singh, a former Jathedar, Takht Damdama Sahib, held closed-door meeting with SGPC president Avtar Singh here today evening to demand reviewing of the hukmanama (edict) on langar, issued by the then Jathedar, Akal Takht, Bhai Ranjit Singh.
A delegation of Canada-based Sikhs holds a meeting with SGPC chief Avtar Singh in Amritsar on Friday. Photo Vishal Kumar
Sukhbir on Baba Farid varsity board
Chandigarh, January 9
The Board of Management of the Baba Farid University of Health Sciences has been reconstituted with Shiromani Akali Dal (SAD) president Sukhbir Singh Badal and senior BJP leader Balramji Dass Tandon as its non-official members.
Special maths, science test today
Chandigarh, January 9
About 90,000 students of Class V and VIII of government schools in Punjab would be appearing for a special Maths and Science test being conducted by the Sarva Shiksha Abhiyan Authority, Punjab, tomorrow.
Wooing IT units
Punjab minister to visit B'lore, Hyderabad
Patiala, January 9
To woo IT industry in the wake of sops offered to it by the Punjab government under the proposed IT-friendly industrial policy, Industry and Local Bodies Minister Manoranjan Kalia will visit Bangalore and Hyderabad to persuade leading IT majors to set up units in the state.