States must implement pay proposals: Thorat
Karnal, January 17
The University Grants Commission Chairman, Prof Sukhadeo Thorat, today made a strong plea to the states to implement the Sixth Pay Commission recommendations and said there should be no hitch in granting revised scales to university and college teachers when the Union government had already agreed to bear 80 per cent of the burden. In fact, the onus of implementing the revised pay scales was on the Union Human Resource Development Ministry, he added.
Media role discussed
Sirsa, January 17
The impact of global meltdown on print and electronic media and the role of electronic media during the live telecast of the 26/11 Mumbai terrorist attacks were deliberated at length during the national executive meeting of the National Union of Journalists (NUJ) held in Surkhab Complex here today.
NHAI urged to ensure road safety
Gurgaon, January 17
Expressing concern over the number of accidents taking place on the expressway, Deputy Commissioner Deepti Umashankar has written to the National Highways Authority of India (NHAI) to ensure the safety of road users.
Compensation for cops enhanced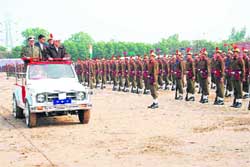 Hisar, January 17
Chief Minister Bhupinder Singh Hooda today announced that enhanced compensation would be given to policemen dying in terror attacks.Speaking as the chief guest at the passing out parade of the Haryana police (telecom) constables here, he said in case of death of a policeman in a terror attack, the government would give Rs 10 lakh to next of kin instead of Rs 7.5 lakh given at present.
Chief Minister Bhupinder Singh Hooda inspects a guard of honour at a passing-out parade of Haryana Police constables in Hisar on Saturday. A Tribune photograph
Stress laid on export of value-added products
Karnal, January 17
Production of C fore wheat and rice is the only way to combat the impact of climate change, as transgenic culture in agriculture will be the order of the day in the near future.
Vets reject new pay scale
Yamunanagar, January 17
The district unit of the Haryana State Veterinary Association today decided not to accept the new pay scale given by the state government while implementing the Sixth Pay Commission.
Convention centre inaugurated
Rohtak, January 17
The Haryana government had spent Rs 80 crore on the development of tourism in the state in the past three years as against an amount of Rs 40 crore used in 20 years till March 2005.
Bishnoi begins mass contact campaign
Hisar, January 17
Haryana Janhit Congress (BL) founder Kuldeep Bishnoi yesterday embarked on his mass contact campaign from Sarangpur village near here. The campaign has been christened "Kuldeep Bishnoi chale chaupal ki ore".
3 killed in accident
Sonepat, January 17
Three persons were killed on the spot and one was seriously injured when the car they were travelling in collided head-on with a loaded truck near Murlana village on the Rohtak-Gohana-Panipat national highway here today.
Expectant woman raped
Fatehabad, January 17
An expectant woman was allegedly raped at her parents' home in Kulan village in this district by a youth residing in the neighbourhood on the night of Thursday.
Man duped of Rs 40,000
Rewari, January 17
Om Prakash Sharma, an employee of the post office here, was reportedly duped of Rs 40,000 by a cheat who fraudulently withdrew Rs 20,000 each from two adjacent ATMs of the State Bank of India while craftily using the former's ATM card here on Wednesday (January 14).
Man gets life term for rape, murder
Sonepat, January 17
Additional District and Sessions Judge Paramvir Nijjar has sentenced Kuldeep of Kailana village, accused in a case of rape and murder of a minor, to life imprisonment. The court also imposed a fine of Rs 10,000 on him.
Judicial remand for Tehsildar
Kaithal, January 17
Rakesh Garg, Tehsildar, Guhla, who was arrested in a bribery case by a team of the Vigilance Bureau yesterday, was produced in the court of Chief Judicial Magistrate, Kaithal, Ajay Pareshar here today, which remanded him in 14-day judicial custody.