Clean break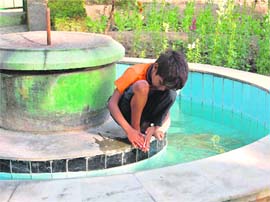 A young boy takes a break from work to wash his hands and feet at Gandhi Park fountain in Dehradun. Tribune Photo:
Anil P. Rawat
Town goes to the dogs
Mussoorie, January, 22
The increasing population of stray dogs has become a menace for local residents. Packs of stray dogs create a nuisance for the people, especially early morning and late in the night. Although the municipal authorities have initiated steps to take relocate the dogs, locals feel that more needs to be done.
Residents want rly track fenced
Roorkee, January 22
Every year, around 10 persons are run over by trains that run on the two tracks that pass near Mohanpura village, around 2 km from here. A 1.5-km-long stretch of unfenced railway tracks passes just a few metres away from many houses of the locality. According to residents, many animals, including their livestock, have also died after being run over by trains.
Health card scheme likely by March-end
Dehradun, January 22
The state government's cashless health smart-card scheme for government employees has run into procedural bottlenecks resulting in its delayed launch.