Winter tourism in freeze
Anmol Jain
Tribune News Service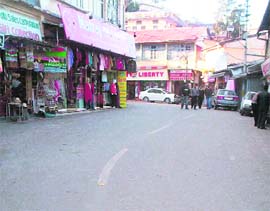 The deserted Mall Road in Mussoorie. Photos: Nisha Goswami
Mussoorie, January 20
After global meltdown and Mumbai terror attacks, it is now the lack of snowfall that has rattled the tourism industry of Uttarakhand.
Revenues of tourism-based businesses have plummeted drastically with estimates suggesting a fall of nearly 35 per cent in hotel occupancy this winter. Hoteliers, tour operators and local shopkeepers have always looked forward to winter snow, as it means huge inflow of tourists. But major tourist destinations like Mussoorie and Nainital have hardly received any snowfall this year.
According to Ajay Bhargava, secretary of Mussoorie Hotels Association (MHA), "Normally we have at least one snowfall by mid-January, but this year has been an exception."
Even high altitude locations like Auli, which is a major ski resort, have not received sufficient snowfall. "This year there was only about half a feet of snow in Auli, whereas normally it has four to five feet during winter," said Santosh Kunwar, owner of a Joshimath-based adventure tourism enterprise.
The net result is that Uttarakhand has failed to catch the eye of domestic and foreign tourists this winter and the hotel industry has been hit hard.
"Although the hotel business was hit by economic recession and terrorism, hoteliers expected to offset the losses through winter tourism," said Parveen Sharma, secretary of Uttarakand Hotels Association.
"Generally, hotel occupancy in Uttarakhand is around 50 per cent during January and February, but this year it has dropped to 15 per cent," Parveen said.
According to Ajay Bhargava: "This winter the revenues of hoteliers in Mussoorie have dropped by at least 25 per cent as compared to previous years." He added that even one snowfall might have given some respite to hoteliers.
Dinesh Kathait, owner of Venture Himalayas, a river rafting and trekking company at Rishikesh, said the economic recession and Mumbai terrorist attacks had already brought down trekking and rafting business by nearly 70 to 80 per cent. "We were looking forward to winters as snowfall attracts a lot of groups who go to Auli for skiing and also engage in river rafting, but so far only a handful of groups have approached us," rued Dinesh. According to him a large number of bookings had been cancelled due to inadequate snowfall at Auli.
Santosh, who organises treks to Chopta-Tungnath-Dodital, Har-ki-Doon and to Kunwari pass during the winters, said: "Last year we had organised fifteen treks during this period but this year we have managed only four. A number of groups from foreign countries have cancelled their bookings this year," he said.
Even small businessmen are feeling the pinch. "The sales have been very low till now," said Deepak, a local shopkeeper from Mussoorie. "We are eagerly awaiting a snowfall so that our business picks up," he adds. "There is great demand for 'chai-samosa' after snowfall, but this year things are not going so well," Ravinder, a tea-stall owner from Mussoorie lamented.
Meanwhile, the Uttarakhand Hotels Association is feeling let down by the state government's apathetic attitude.
"In order to counter economic recession, governments in various other states have taken initiatives to promote tourism and support the industry," Parveen said.
"States like Jammu and Kashmir, Himachal Pradesh, Rajasthan and Kerala have cut down on luxury tax and provided various incentives and subsidies to hotel owners. However, Uttarakhand government has not provided any such relief," he added.
Dr Sunil Gulati, honorary secretary of the Federation of Hotel and Restaurant Associations of India (FHRAI), opined that the, "Uttarakhand government should aggressively come forward to attract domestic and foreign tourists."
Gulati suggested that the state government should contemplate steps like reducing VAT on food and beverage items from 12.5 per cent to 4 per cent and also raising the exemption limit for luxury tax on hotel tariffs from Rs 1000 to Rs 3000. "The Central government has already issued directives to all states asking them to reduce the luxury tax applicable on hotels. In addition, the state government should also reduce the bar licence fees.
Such steps would attract greater number of tourists to the state," Gulati said.
Dr Anand Sharma, director of Uttarakhand metrological department, said there is some hope by January 23 and 24. "Although there is enough snowfall in neighbouring Himachal Pradesh and J&K, the systems that approached the state were weak.
"We are hopeful that by month end, the state should get rain and snow," he said.