Jalandhar Welfare Society
Playing mother to the unfortunate
Jalandhar, January 22
Years back, Muskan (name changed) was found hanging from a tree at Banga in Nawanshahr, tied to something of an improvised, cruel crib, the kind which rural India abounds with. But her case was different. She had no doting mother attending on her and none of the comforting chatter of siblings around.
Children of a lesser god at Pingalghar in Jalandhar. Photo: Suryakant
Young World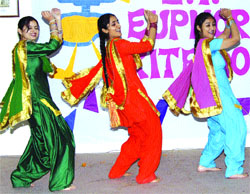 Exchange programme: City student, teacher visit Japan
Jalandhar, January 22
In an attempt to explore the intercultural spheres of the other countries, class IX student Sagari Handa of the local Eklavya School, along with her teacher Sapna Bakshi, visited Japan from December 4 to 18 last year. The programme was organised under the Jenesys programme under the AFS intercultural exchange programmes.
Students of KMV perform a dance item during a function, "Kite-2009," in Jalandhar on Tuesday. Photo: Suryakant

Going Global
PTU to export education courses
Jalandhar, January 22
The vice-chancellor of Punjab Technical University today gave a go-ahead to the export of education courses through its distance education cell from the coming session.
IIM-C launches management programme
Jalandhar, January 22
The Indian Institute of Management - Calcutta (IIM-C) has launched a general management programme for accounting professionals (GMPAP) in Jalandhar. The course would be conducted at centres located at GT Road and SS Mart.
Jalandhar dist to be covered under health scheme
Jalandhar, January 22
After the success of the national health insurance scheme launched in Ferozepore, Gurdaspur, Amritsar, Sangrur and Patiala in 2002, the Punjab health department has decided to cover Jalandhar district under the scheme shortly.
Two travel agents booked
Jalandhar, January 22
The district police today claimed to have booked two unscrupulous travel agents for allegedly committing a fraud with the persons inspiring to go abroad in search of green pastures.
Couple held for fraud
Jalandhar, January 22
A couple was yesterday arrested for allegedly committing fraud of Rs 25 lakh by selling a property on fake documents.