Harshit finds R-Day foothold
Roorkee, January 23
Harshit Garg has once again made his parents, teachers and well-wishers proud. This Republic Day, he has earned the honour of sitting beside Prime Minister Dr Manmohan Singh during the parade at Rajpath.
Digging begins around St Joseph's Academy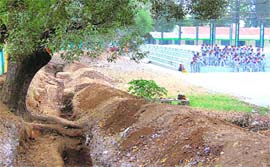 Dehradun, January 23
Digging has started to shift the boundary of Saint Joseph Academy (SJA) further inside its premises along Subhash Road. The move is aimed at decongesting traffic along the entire stretch up to Old Survey Chowk.


Digging in progress inside St Joseph's Academy premises in Dehradun. A Tribune photograph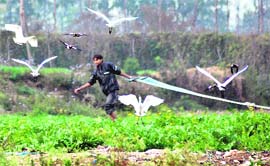 A farmer shooes away birds as he pulls up a water pipe to irrigate his fields in Dehradun on Friday. Tribune photo: Vinod Pundir
Allotment of liquor vends
Proposal to make PAN, IT return mandatory
Dehradun, January 23
Income Tax authorities in Uttarakhand have proposed to make Permanent Account Number (PAN) and a statement of IT return compulsory for those applying for allotment of liquor vends in the state in the next financial year.
Market Buzz
Fizi Foods enters Garhwal markets
Dehradun, January 23
Fizi Foods and Beverages, launched its range of food products in the Garhwal zone here yesterday. This is for the first time Fizi Foods has come out with an economical and nutritious range of food products for the people of Uttarakhand.