Sukhbir's R-Day speech in Amarinder bastion
Patiala, January 24
The Yadvindra Public School (YPS) grounds, owned and managed by the family of Captain Amarinder Singh and Patiala, are all set to receive Punjab Deputy Chief Minister Sukhbir Singh Badal amid gala arrangements like a full-scale escort by the Cavalry Unit of the Punjab police on Badal's first visit to the city after his elevation.
Govt to bail out power board, says Manpreet
Patiala, January 24
Punjab Finance Minister Manpreet Singh Badal highlighted the role of the private sector in bringing the Punjab State Electricity Board (PSEB) out of the red. He said that private sector could play a pivotal role in setting up new power generation plants in collaboration with PSEB.
CPI (ML) to contest 3 LS seats
Announces Sangrur, Bathinda candidates
Sangrur, January 24
The CPI (ML), a Naxalite party, has decided to contest three constituencies in the forthcoming Lok Sabha (LS) elections in Punjab. This decision has been taken by the party to give a boost to its revolutionary struggle and stake a claim of its red flag's independent supremacy in political circles of the country.


Consumer forums in Punjab reel under staff crunch
Chandigarh, January 24
The District Consumer Disputes Redressal Forums in various districts in Punjab are facing shortage of staff and infrastructure, said Justice Ashok Bhan, president of National Consumer Disputes Redressal Commission.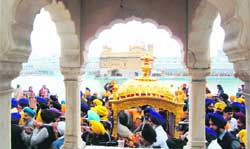 Devotees carry a golden palanquin with Guru Granth Sahib during a nagar kirtan on the Golden Temple premises to mark the birth anniversary of Shaheed Baba Deep Singh in Amritsar on Saturday. Photo: Vishal Kumar
Uninterrupted power on Jan 22 was sheer luck: PSEB chief
Anandpur Sahib, January 24
Uninterrupted power supply in the state on the day Sukhbir Badal was sworn in as Deputy Chief Minister (January 22) was just a matter of luck and coincidence, Punjab State Electricity Board (PSEB) chairman HS Brar said. He added that by chance Punjab had surplus power that day. "And it happened to be the Deputy CM's coronation and power was given the whole day," he said.
Inside Babudom
Sukhbir opts for Aujla as Sports Secy
Chandigarh, January 24
Deputy Chief Minister Sukhbir Singh Badal has opted for a new Secretary for Youth Affairs and Sports. It is his first administrative order.
Health camps to mark Republic Day celebrations
Chandigarh, January 24
The Department of Health and Family Welfare, Punjab, has decided to dedicate Republic Day celebrations to the health care needs of women, children and patients in hospitals. A meeting under the chairpersonship of Health Minster, Punjab, Laxmi Kanta Chawla.
BSF troops seize fake currency
Ferozepur, January 24
Alert troops of 43 Battalion, BSF, today foiled another attempt by Pakistani agencies to push fake currency inside the Indian territory. According to BSF sources, the troops on night patrol along the zero line of the border noticed some unusual movement through their sophisticated night vision devices near border pillar No. 214/13 close to border outpost Daulat Ram Dina Nath. They immediately sounded an alert and at the first light of the morning, a search operation was launched.
Class X to have 7 subjects
Ludhiana, January 24
To make school education more meaningful, the Punjab School Education Board has decided to introduce seven subjects in class X from the academic session 2009.


Fake Passport Scam
2 Chandigarh-based travel agents held
Moga, January 24
The police arrested two Chandigarh-based travel agents from their residences in Kharar in the fake passport scam on Thursday night. A local court has sent them to police remand.