Man with the Golden Globe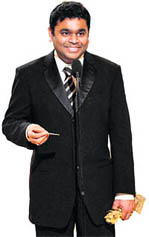 The soul-stirring melodies of A.R. Rahman have won him international acclaim. Nonika Singh writes about this musical genius
AT 25, when A.R. Rahman burst on the national scene with Roja, he was hailed as a prodigy. Today at 43, he is arguably India's best-known music composer and the most visible face of Indian music. He is being acclaimed as a genius. Yes, by a grateful nation basking in the glory of the Golden Globe award that he has brought to his country for the first time in history. Only now it's not only a nation that is applauding but international community, too. Post-Golden Globe award that he got for Best Original Score in British director Danny Boyle's movie Slumdog Millionaire, the world is saying, "Now we all know A.R. Rahman – but we probably should have a long time ago."
Kathakali's unsung heroes
Make-up in Kathakali is a prolonged, arduous and meticulous art, which begins hours before the actual staging of the play, writes N. Muraleedharan
THEIR deft strokes transform a frail, earthly figure into the mighty Indian demigod Hanuman. Their soft touches can change a scrawny pork-marked face into that of an 'apasara'.
Security for the seniors
The government should look after senior citizens and provide them with social security. Elected civic groups of men and women, with the help of panchayati raj bodies, the law and doctors, should come forward to serve the elderly, says Triloki Das Khandelwal
NOW that the elections to state assemblies are over, the new democratic governments should plan and work for the implementation of the promises made. Some of these might have been made as a part of the electoral campaign.
Saving red panda
Tanshi Pradhan
Sikkim is making efforts to save the endangered red panda from extinction. The Himalayan Zoological Park (HZP), Gangtok, in collaboration with the state Forest Department has initiated a programme for the conservation and breeding of red panda at a natural enclosure in the park.
Get your shave right
Use a new razor head once every eight shaves. A thick brush and shaving paste will make the tiniest hidden hair soft, says Hector Choksi
LET us say that the average man shaves every day, and takes 10 minutes to do it. We will subtract a few days for those Saturdays he gets up, looks in the mirror, and says: "Oh, to hell with it today—it is Saturday."
Monet's muse
Rajesh Krishan visits the village of Giverny in France, famous for impressionist painter Claude Monet's home and gardens, which were also the subject of his paintings
FRENCH and art are synonymous with each other. French people's passion for art is probably the only thing that surpasses their passion for 'men in blue' (French football team).
Double delight
WHAt once scorched the silver screen will now enthrall the small screen audiences. Hugely popular Bollywood film Seeta Aur Geeta, starring Hema Malini in a double role, is now being converted into a TV series.
A fairy tale
The rags-to-riches story of Jamaal in Slumdog Millionaire is perfect antidote
to the discontent of our times, says Christina Patterson
IT'S visually stunning. It's gripping. It's gobbling up awards. And it's the feel-good film of the year. Yes, if you want to escape the horror of a British winter at a time when each bulletin brings news so bad it would, if it wasn't you and your friends losing their jobs, be boring, then the answer is this: Slumdog Millionaire.
We need more short films: Anupam Kher
Alkesh Sharma
MORE documentaries and short films should be made as multiplexes provide space for such movies and such endeavours will provide opportunities for struggling young artistes in the country, says Anupam Kher, who was last seen in critically acclaimed film A Wednesday.