Amritsar DC to get NREGA award
Amritsar, January 30
The Government of India has selected Amritsar Deputy Commissioner K.S. Pannu for Excellence Award in NREGA administration as per a communiqué received from New Delhi. In a press release issued here today, the award would be given to the DC on February 2 at Indian Agriculture Research Institute, New Delhi, in a special session in the presence of Prime Minister Manmohan Singh and UPA chairperson Sonia Gandhi.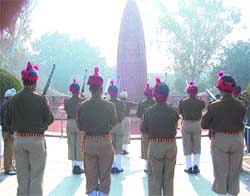 Tributes paid to freedom fighters
Amritsar, January 30
Rich tributes were paid to the father of the nation, Mahatma Gandhi, along with freedom fighters, who sacrificed their lives during the independence movement at an impressive commemoration ceremony held at Jallianwala Bagh National Memorial here today.



Policemen pay tributes to Mahatma Gandhi on Martyrs' Day at Jallianwala Bagh in Amritsar on Friday. A Tribune photo
Documentary on works of Bhagat Puran Singh
Amritsar, January 30
Tamil Nadu Governor Surjit Singh Barnala released a documentary on the life and works of Bhagat Puran Singh, renowned social worker and founder of the All India Pingalwara Charitable Society (AIPCS), here on Thursday.
Kalpana Chawla award for Manveen Sandhu
Amritsar, January 30
Amritsar-based Gurmeet Bawa and veteran film actress Jatinder Kaur would be among the nine women who would be honoured with Kalpana Chawla Excellence Awards for Women 2009, instituted by Punjab Engineering College Chandigarh Old Boys Association.
AVM: Ban free foreign study tours by leaders
Amritsar, January 30
The foreign and study tours by various MLAs, chairmen of various departments and ministers on government expenses during the previous Congress regime yielded no result. This is outcome of the information received under the RTI Act by the Amritsar Vikas Manch (AVM), which has sought immediate ban on such tours.
UP govt's step to promote Punjabi welcomed
Amritsar, January 30
The Punjabi Writers Cooperative Society (PWCS) has urged the Punjab government to grant scholarships to brilliant students of Punjabi on the line of Uttar Pradesh government. The demand has been made in a letter by society president Dr Bikram Singh Ghuman and managing director Dr Charanjit Singh Gumtala to Chief Minister Parkash Singh Badal and education minister Dr Upinderjit Kaur.
Campus Buzz
IBM Daksh recruits 11 GND varsity students
Amritsar, January 30
IBM Daksh, a multinational company, has recruited 11 students of Guru Nanak Dev University out of 14 through joint campus recruitment conducted on the university campus here today. The students have been offered a salary package of Rs 1.80 lakh per annum plus incentives. Students of the graduate and postgraduate courses of various colleges from Amritsar and surrounding regions also participated in the recruitment drive.
Basant Panchmi: Students enjoy a kite fight
Amritsar, January 30
Students and staff members of Jagat Jyoti Model High School organised a function on the eve of Basant Panchmi here today. The students and staff dressed in the varied shades of yellow participated in yellow-kite flying competition to mark the festival of spring. They also offered prayers to Sarasvati, the goddess of learning, besides organising giddha and bhangra.

Springing Beauties

Girls fly kites on the eve of Basant Panchmi in Amritsar. Photo: Vishal Kumar
Youth fest: District admn earns sports minister's pat
Amritsar, January 30 Union minister for youth affairs and sports Dr M.S. Gill and Nehru Yuva Kendra Sangathan director-general Dr Shakeel Ahmad Khan have appreciated the district administration for successfully holding the 14th National Youth Festival from January 12 to 16. Dr Gill, in his letter to deputy commissioner Kahan Singh Pannu, said the administration and its staff had made excellent arrangements for the festival.
KSC to hold protest on February 5
Amritsar, January 30
The Kisan Sangharsh Committee (KSC) has announced to organise a protest in front of the offices of the SDM (I and II) in favour of their demands here on February 5.
Woman fired at by relative
Tarn Taran, January 30
Kabul Singh, a resident of Dubli village, 25 km from here, has been booked for firing four rounds at his relative Ninder Kaur from his licensed rifle last night.