Cricket stadium eludes Jammu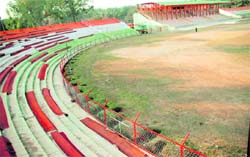 Jammu, January 30
While Jammu and Kashmir has abundant cricketing talent, budding cricketers in the absence of a full-fledged cricket stadium in the winter capital continue to eat dust and toil hard at the multipurpose "worn out" MA Stadium.

The multipurpose MA Stadium in Jammu. Photo: Inderjeet Singh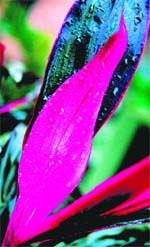 Rain drops on a plant after a shower in Jammu. Tribune photo: Anand Sharma
Agriculture
State to follow in HP, Punjab footsteps
Udhampur, January 30
Punjab and Himachal Pradesh are the two states from where farmers of Jammu and Kashmir, especially those of the Jammu region, have been taking inspiration. Not only farmers but also the authorities are following these two states as far as agriculture and horticulture sectors are concerned.
Padma Shri to Hashmat surprises all
Jammu, January 30
After it became official that the central government conferred Padma Shri in the field of art and craft to a "wrong person", the controversy has brought lesser-known Hashmat Ullah Khan into limelight that refuses to die down.
Sain Miran attracts people of all faiths
Poonch, January 30
Militants may have tried several times to break unity among Muslims, Hindus and Sikhs in the border township, but they have failed every time.
Allaudin award for santoor maestro


Srinagar, January 30
Legendary santoor maestro and music composer Pandit Bhajan Sopori has been honoured with the prestigious Baba Allaudin Khan Award in recognition of his service in the field of music and culture. The award, comprising a memento, shawl and a bouquet, was presented to him by Jawahar Sircar, secretary, union ministry of culture, in New Delhi.