Nautiyal is horticulture director
Dehradun, February 3
The Uttarakhand government has appointed NABARD GM Dehradun PP Nautiyal as director of the state Horticulture Department.
Illness Fund benefits 170
Dehradun, February 3
The 'State Illness Assistance Fund', created by the government in 2003, is proving a boon for several poor patients suffering from life-threatening diseases but unable to pay for their treatment.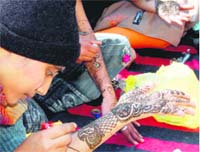 A girl participates in a Mehendi competition in Haridwar on Tuesday. A Tribune photograph
Guv meets NCC cadets
Dehradun, February 3
Uttarakhand Governor today met cadets of the NCC Directorate who represented the state during the Republic Day Parade in New Delhi. While stating that participation in the R-Day Parade is a matter of great pride, Joshi congratulated Shalini Nautiyal, who led the NCC contingent (senior division girls) and Hemant Rawat who was the part of guard of honour during the parade.
Art in the palm of their hand
Ritu best sculptor
Haridwar, February 3
Girls here are busy participating in sculpture, mehandi and rangoli competitions. School and college students made sculptures from waste material at 'Kala Mahotsava' here today. Ritu Chaudhari bagged the first prize.
Defrauded man says cops not helping him
Roorkee, February 3
A class-IV employee of the Indian Institute of Technology (IIT) has been running from pillar to post to lodge a police complaint from last four days.
Schoolgirl raped by her rickshaw wallah
Haridwar, February 3
A seven-year-old girl was allegedly raped by a rickshaw puller in the Tibdi area of Haridwar yesterday. According to her family members, the girl studies in Shishu Vidya Mandir, Ranipur, and was ferried to the school by the rickshaw puller, Madhukant Pathak, daily.
70-yr-old trampled to death by elephants
Haridwar February 3
Herds of elephants trampled a 70-year-old man last night in the Ranipur Tibdi forest area of the district. The victim identified as Sttar, a resident of Teliyan area Jwalapu, was found brutally mowed by elephants behind the BHEL hospital.
Abhimanyu Academy triumph by 7 wkts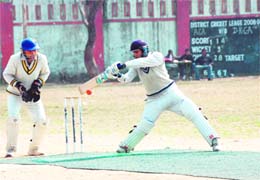 Dehradun, February 3
A century by Vipin, helped Abhimanyu Cricket Academy (ACA) register seven-wickets victory against Dinesh Rawat Cricket Academy (DRCA) at the 57th District Cricket League underway at Survey Stadium, here today.
A batsman of the Dinesh Rawat Academy hits a shot at the 57th District Cricket League at Survey Stadium, Dehradun, on Tuesday. A Tribune photograph
Chinmay, Abhimanyu win debate
Dehradun, February 3
ICFAI National College organised a debate competition today on the topic of at it's campus in Mohabbewala. The topic of the debate was 'Globalisation has made India a puppet in the foreign hands'.