Submit plans for rehabilitation of militancy victims
Jammu, February 3
Chief Secretary SS Kapur has directed all district development commissioners to submit detailed action plans for the next financial year regarding the rehabilitation of militancy-affected people by March 10 so that the proposed action plan of Rs 503 crore could be approved in time.
Misappropriation of Loans
Vigilance books bank manager
Jammu, February 3
The State Vigilance Organisation (SVO) has registered a case against the branch manager of Jammu Rural Bank, Bufflaiz, Poonch, and others for fraudulent sanction and misappropriation of bank loans worth over Rs 16 lakh.
Govt woos contractual docs with higher salary
Udhampur, February 3
To resolve the problem of shortage of doctors at health centres in rural areas, the state government has decided to hike the salaries of contractual doctors manifold to encourage them to serve in remotest areas of Doda, Udhampur, Reasi and Kishtwar districts of Jammu province.
Protest over police inaction
Udhampur, February 3
Residents of Sangana Kuntwara and the adjoining areas of Kishtwar district today staged a dharna on the Doda-Kishtwar national highway and blocked the traffic.
Top Hizbul militant held, IED defused
Udhampur, February 3
A top militant of the Hizbul Mujahideen, who according to the police was absconding for a long time, was arrested in Reasi district today.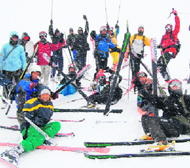 Snow in Gulmarg
Annual snow festival begins
Srinagar, February 3
The famous ski town of Gulmarg received snow today even as the authorities flagged off the annual snow festival amidst palpable enthusiasm.


Skiers enjoy themselves on the world famous ski slopes of Gulmarg at the start of the annual two-day snow festival on Tuesday. Tribune photo: Amin War

Collective political will needed for peace: CPM
Srinagar, February 3
MY Tarigami, state secretary of the CPM, has sought collective and unified efforts by political forces for sustainable peace and development in the state.
VC hoists varsity flag
Srinagar, February 3
Vice-chancellor of Kashmir University Riyaz Punjabi hoisted the university flag at two places, one outside the administrative block, and another in front of the convocation complex, on the campus here today.
Katra-Qazigund Rail Project
Team of experts to visit area
Arnas (Reasi), February 3
Keeping in view anger and resentment among the locals against the decision of the Railways to go in for a fresh alignment of the Katra-Qazigund railway project, the visiting members of the parliamentary committee has decided to depute a team of experts to inspect various spots that have been causing problems in the completion of the work.
Samiti plans protests for Bharati
Jammu, February 3
The Amarnath Yatra Sangharsh Samiti has decided to hold protests across Jammu province in support of its demand for withdrawal of case registered under the PSA against Swami Dinesh Bharati during the Amarnath land agitation.
Minister from Kargil soon: CM
Jammu, February 3
The implementation of the Sixth Pay Commission recommendations and enhancement of the retirement age are under consideration, Chief Minister Omar Abdullah told a delegation of BJP legislators led by Chaman Lal Gupta.
CM: Govt keen on developing sports
Jammu, February 3
Chief Minister Omar Abdullah has reiterated the government's keen interest in developing sports, upgrading its standards and improving infrastructural facilities.
Olympic Association meets CM
Jammu, February 3
A delegation of the J&K Olympic Association led by its president, Rangil Singh, today called on Chief Minister Omar Abdullah here to discuss matters relating to the development of sports.
Lawyers suspend work
Jammu, February 3
The Bar Association of Jammu today suspended work in courts against the amendment of Section 41 and Section 309 of the CrPC.
MC staff plea to convene DPC
Jammu, February 3
Expressing anguish over the delay in promotion, Municipal Employees Federation president Ravinder Sharma has demanded immediate convening of the departmental promotion committee (DPC).
Seminar on cerebral palsy
Jammu, February 3
Amandeep Hospital and UNICEF organised a seminar on "Management of cerebral palsy and club foot" at the Press Club here today.