Kingpin of Dedh gang, accomplice held
Amritsar, February 6
In a major success, the district police arrested hardcore criminal and kingpin of the Dedh gang Amandeep Singh, alias Dedh, a resident of New Partap Nagar here, along with his accomplice, after a firing incident.
Lok Sabha Poll Preparation
Photography for voter I-cards from Feb 7 to 15
Amritsar, February 6
Electorates without photo identity cards from the Amritsar north assembly constituency would get a chance to be photographed from February 7 to 15.
MC too busy to hold general house meet
Amritsar, February 6
In a demonstration of a tardy way of functioning, the municipal corporation has been working without holding a general house meet for the past six months. The last meeting took place on July 21.
Laughter is the best medicine: Dr Neki


Amritsar, February 6
Punjabis were once known for their laughter, but now the situation is something different because the real smiles of the Punjabis has lost somewhere and the fakeness has taken over it, rued leading Sikh scholar, poet and former director of PGI, Chandigarh, Dr Jaswant Singh Neki.

Jaswant Singh Neki
'Adopt 'Islah' to raise Punjabi ghazal standard'
Amritsar, February 6 Punjabi poet and psychiatrist Dr Jaswant Singh Neki today underlined the importance of the synthesis of thought, content and craftsmanship of poetry at a two-day workshop on poetry dedicated to Bhai Vir Singh at Guru Nanak Dev University here.
Heritage fest from Feb 20
Amritsar, February 6
The Virsa Vihar Society, Amritsar, in association with the Punjab Kala Parishad would hold the three-day Amritsar Heritage Festival from February 20.
City boy qualifies for national badminton tourney
Amritsar, February 6
His grit, determination, coupled with faith in himself, paid off when he qualified for the Open National Badminton Championship to be held at Indore from February 10 to 18. Currently pursuing MBA from Guru Nanak Dev University (GNDU), city youth Mayank Behal left the Railways job after six years. He is also the brand ambassador of an international sports goods manufacturing company based in Austria.
School in 'locality of widows' leaves a mark on DC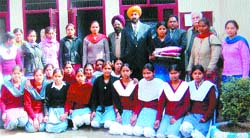 Amritsar, February 6
Deputy commissioner Kahan Singh Pannu today visited Citizens' Forum Vidya Mandir School situated in the Maqboolpura locality in the outskirts of the holy city here where free education is being provided to the wards of victims of drug addiction.
DC Kahan Singh Pannu along with the management and students of Citizens' Forum Vidya Mandir School at Maqboolpura. A Tribune photo
Anveshan 2009
Students' research convention ends
Amritsar, February 6
Shabir Hussain Wani and Aseem Verma of Punjab Agricultural University (PAU), Ludhiana, stood first in the oral and poster-making presentation in agriculture and engineering and technology faculty in the valedictory session of the three-day Anveshan-2009 north zone second students' research convention that concluded at Guru Nanak Dev University on Wednesday.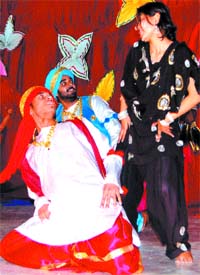 Students perform during the Tech Fest-2009 at Khalsa College in
Amritsar on Friday. Photo: Vishal Kumar
17 schools to have satellite system
Tarn Taran, February 6
All the 17 government secondary schools of the district were being connected with the satellite system to teach students about the relevance of science. The teachers were being given training on the techniques of the new system. A one-day operational training camp was organised here today at Sri Guru Arjun Dev Government Secondary School in which the teachers and coordinators participated. District education officer (secondary) D.K. Mahia inaugurated the camp. The DEO after inaugurating the camp said the system had already been installed at Government Girls Secondary School, Patti, and the remaining 16 schools had been given the ultra modern techniques recently.
Bee-keeping course from February 10
Amritsar, February 6
Punjab Agricultural University (PAU), Ludhiana-run Krishi Vigyan Kendra (KVK), Amritsar, would hold a nine-day course on bee-keeping at its office in Ranjit Avenue from February 10.
IT raid leaves goldsmiths fuming
Amritsar, February 6
A raid carried out by the Income Tax department yesterday agitated the goldsmiths in the Guru Bazaar area in the walled city here, who raised slogans against the department.
Sidhu gives Rs 1.21 cr for devp projects
Amritsar, February 6
BJP MP Navjot Singh Sidhu distributed cheques worth Rs 1.21 crore for the overall development of various areas of the city. Sidhu gave cheques for over Rs 80 lakh for development works in the Verka assembly constituency, while Rs 21 lakh and Rs 10 lakh for various works in the constituencies of Anil Joshi and state secretary of BJP Rajinder Mohan Singh Chhina, respectively.