Watch out, you could become a petitioner without your knowledge
Chandigarh, February 6
The next time you sit in front of a computer, just log on to the list of cases pending before the courts. Chances are that someone has filed a petition on your behalf even without your knowledge.



LS Polls
Cong to ask EC to declare Punjab sensitive
Fatehgarh Sahib, February 6
The Congress is all set to approach the Election Commission (EC) for declaring Punjab a "very sensitive" area for the forthcoming Lok Sabha elections, said former Chief Minister and chairman of the PPCC campaign Amarinder Singh while addressing mediapersons here today.
BJP leader Shahi joins BSP
Tarn Taran, February 6
In a setback to the ruling SAD-BJP combine, Dr Surinder Singh Shahi, BJP's state working member, along with his supporters, today joined the BSP in the presence of Avtar Singh Karimpuri, member of the Rajya Sabha and state president of the BSP.
Slowdown has not hit state, says Badal
Ludhiana, February 6
Chief Minister Parkash Singh Badal yesterday said there was no economic slowdown in the state and economy had showed remarkable improvement after the Congress regime was over.


Gurdwara does its bit for social development
Urapur (Nawanshahr), February 6
Religion can play a very effective role in social development. This model has successfully been practised in this village having a population of 10,000. Historic Shaheedganj Gurdwara here not only provides spiritual fulfilment to people, but it has also emerged as a focal point of social development in the area. However, local people keep religion separate from their agenda for social development.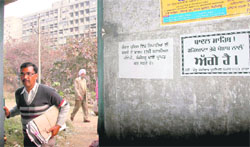 Writing on the wall: A poster stuck by members of the Pendu Chowkidar Union Nabha all over the Punjab main Secretariat takes a dig at the Punjab Chief Minister Parkash Singh Badal pointing out that Haryana has overtaken Punjab. There is a lot of truth in this simple yet strong statement as recent surveys have shown that Haryana has marched ahead rapidly in almost every sphere of development while Punjab seems to have lagged behind. A Tribune photograph
Rs 222-cr project for Amritsar okayed
Amritsar, February 6
The state government has given its approval to the detail project report with a total outlay of Rs 222.18 crore for the futuristic development of the holy city.
Potato growers hit back at Langah
Jalandhar, February 6
Taking Agriculture Minister Sucha Singh Langah head on, potato growers of the state have said the former was "lying through his teeth in a shameful attempt to wriggle out of the whole situation."
Dismiss convicted employees: Punjab vigilance
Chandigarh, February 6
The Punjab government has asked for immediate dismissal of all those employees who have been convicted of various offences by various courts of law, but are still serving the state government.
Members of cooperatives to get goods at discount
Chandigarh, February 6
In a bid to decrease the cost of inputs of state farmers, the state Cooperation Department has arrived at an understanding with various companies, including a tractor firm, to supply their goods at a 25 per cent discount to members of cooperative societies.
Striking engineers to resume work today
Set Feb 16 deadline for their demands
Ludhiana, February 6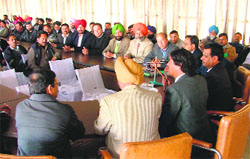 Around 200 engineers from the five municipal corporations of Jalandhar, Patiala, Amritsar, Bathinda and Ludhiana, who had gone on 3-day casual leave since Wednesday, met here today and decided to give the Punjab government time till February 16 to meet their demands.
MC engineers at a meeting with Local Bodies Chief Parliamentary Secretary Harish Rai Dhanda in Ludhiana on Friday. Photo: Inderjeet Verma
3 made joint directors in PR Dept
Chandigarh, February 6
As part of the ongoing move to revamp the Department of Information and Public Relations, the Departmental Promotion Committee today promoted three deputy directors as joint directors and four public relations officers as deputy directors, besides other elevations. The promotions have come on the eve of the release of the Punjab government's new media policy.
Mega police city status for six towns sought
Ludhiana,February 6
The state government ,to modernise the police, has sought mega police city status for Ludhiana, Amritsar, Jalandhar, Patiala , Bathinda and Mohali under the Centre's scheme of according that status to seven metropolitan cities of the country.
Cess on border registries to go
Chandigarh, February 6
The state government has decided to exempt the 3 per cent additional stamp duty being charged as Social Security Cess on the registration of land in the villages within the radius of 5 km from 'A' class Municipal Committee towns in border areas of the state.
Khangura writes to Sukhbir
Chandigarh, February 6
Congress legislator from Qila Raipur Jassi Khangura has asked Deputy Chief Minister Sukhbir Singh Badal to clarify his stand on the Anandpur Sahib Resolution. Reacting to Sukhbir's non-committal response to the issue, Khangura has said as president of the SAD, Sukhbir should clarify the party stand as people want to know this in order to decide whether they extend or withdraw support to any political party.
Prize for Mittersain
Amritsar, February 6
The Police Research and Development Bureau, Ministry of Home Affairs, has bestowed Pandit Gobind Vallabh Pant Prize upon Mittersain Meet for his creation "Ramrajya" for 2008-2009. The prize includes a certificate and Rs 14,000 in cash.
Chaudhary is PSEB member (distribution)
Chandigarh, February 6
Noted engineer KD Chaudhary, who is credited with the drive which has led to shifting of meters from inside residences to pillar boxes in many parts of Punjab, particularly Ludhiana, took over as member, distribution, of the Punjab State Electricity Board (PSEB).


Preservation of Quila Mubarak
Court impleads Centre as party
Chandigarh, February 6
The Punjab and Haryana High Court wants to know whether the government of India has declared Quila Mubarak a protected monument.
Cancellation of Virk's bail
HC reserves verdict
Chandigarh, February 6
The high court today reserved verdict on State of Punjab's plea to cancel the bail granted to former police chief SS Virk in an alleged disproportionate assets case.