It's winter no more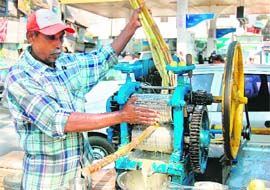 With rising temperatures, sugarcane juice stalls are back in business in Dehradun. Tribune photo:
Anil P. Rawat

Fervour marks Day 1 of ITBP Basant Mela
Dehradun, February 6
A three-day Basant Mela, organised by the Indo-Tibetan Border Police (ITBP), opened here today. The mela is celebrated after every two to four years, and various cultural activities are held to mark the onset of spring.
Warm winter keeps winged guests away
Dehradun, February 6
Climate change continues to pose a big threat to avian fauna across the globe and Uttarakhand is no exception.
The charm of Tehri 'nath'
Dehradun, February 6
For women in Uttarakhand, traditional 'nath' (nose ring) is a prized possession. It is a must have for every married women here.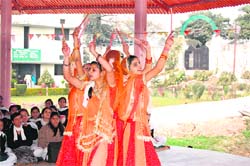 Gurukul chemistry dept wins dance contest
Haridwar, February 6
The Vasantotsava fest organised at the Gurukul Girls College concluded yesterday. The event featured quiz, classical dance performances, recitals, mehendi competition and debates.
The dance competition in progress at the Vasantotsava fest in Haridwar. A Tribune photograph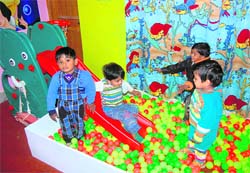 Pebbles opens 2nd branch
Dehradun, February 6
Pebbles, a preparatory school, recently opened its second branch in Jodi village near here to provide easy access to children living in this far-off area.


Kids play at the Pebble School at Jodi village near Dehradun. A Tribune photograph