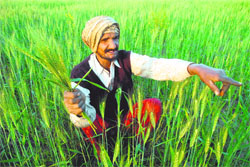 Wheat worries in Punjab
High temperature set to affect yield
Chandigarh, February 7
The high day temperatures and almost negligible rainfall has now begun to affect the standing wheat crops on almost 35 lakh hectares of land in Punjab.


A farmer shows wheat crop that has matured early in Landran near Mohali on Saturday. Tribune photo: Vinay Malik



LS Election


Hurt Galib may turn to Akalis
Jalandhar, February 7
Hurt by the party's attitude towards him for many years and denial of ticket from Jagraon during previous Assembly elecytions , senior Congress leader and two-time MP Gurcharan Singh Galib may contest on Akali ticket from Ludhiana. Galib, who commands considerable following in the area, has been sulking for not being given any party position.Galib told The Tribune, he had been approached by the Badals to contest from Ludhiana.
Mangalore Episode
Ram Sene's objective right, not method: Togadia
Ludhiana, Febuaray 7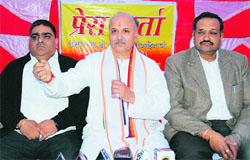 In significant difference of opinion between the two like-minded Hindu organisations, firebrand leader and general secretary of the Vishwa Hindu Parishad (VHP) Praveen Togadia today said though his organisation was against the pub culture and its serious repercussions on the youth, still the women ought to be shown respect.
VHP general secretary Praveen Togadia (centre) at a press conference in Ludhiana on Saturday. Photo: Himanshu Mahajan
Farmers rejecting GM crops, says US expert
Amritsar, February 7
Genetically Modified (GM) crops are promoted by foreign multi-national companies and the Department of Biotechnology of Indian government. They maintain GM crops have swept the world and adopted widely by agricultural and food sectors, especially in highly industrialised countries like the US.

Pak national to see world through Indian eye
Ludhiana, February 7
"I am elated to see the world through the eye of an Indian," said Ali Akbar from Lahore, Pakistan. An eye of a Jalandhar-based woman was donated to him after she died in a recent accident. Akbar underwent corneal transplant at Dr Ramesh Super-speciality Eye and Laser Centre in Ludhiana.
Ali Akbar
Satellite-based data centres for Bhakra, Pong dams
Chandigarh, February 7
Water management of the Bhakra and Pong dams is set to become more efficient with the Bhakra Beas Management Board (BBMB) awarding a Rs 24-crore contract to a Danish firm to establish satellite-based data centres in the catchments of these dams.
Golden Temple to have 100 CCTV cameras
Amritsar , February 7
The Shiromani Gurdwara Prabandhak Committee will install more than 100 CCTV cameras for more security in the Golden Temple and Akal Takht complex.
22 APROs promoted
Chandigarh, February 7
As many as 22 assistant public relations officers (APROs) have been promoted by the Punjab government following a meeting of the department promotion committee.
Ownership rights for 150 Rai Sikh tillers
Chandigarh, February 7
The state government has decided to allot ownership rights of evacuee land to nearly 150 tillers of Rai Sikh community.
200 ETT teachers held, freed
Anandpur Sahib, February 7
Nearly 200 ETT (Elementary Teachers Training) teachers were arrested by the Ropar police today and released in the evening.


HC notice to Vidhan Sabha secy, govt
Payment of MLAs' income tax
Chandigarh, February 7
The Punjab and Haryana High Court will now decide how taxing Punjab MLAs can be on the state exchequer and the general public.


Marriage scuffle leaves 3 dead
Khanna/Samrala, February 7
Entering into an argument with a group of boys proved fatal for three persons, including a child, as the car in which they were travelling met with an accident after it was allegedly hit by the car of the accused. The incident left the couple and their child dead on the spot and two other injured here late in the evening today.