We follow the Natyadharma and Lokdharma codes for delineating a theme through a display of emotions, facial and body gestures while performing mime
Very few artistes in the realm of mime have elicited appreciation like Padmashri Niranjan Goswami, the Kolkata-based multifaceted artiste who has given a new dimension to the original European pantomime art form.
Padmashri Niranjan Goswami infuses fresh meaning into the art of mime




EA mime artiste at work

MUKH-ya: Niranjan Goswami F
Photo by S. Chandan
Marriage of icons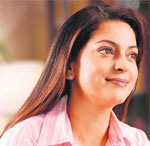 Vouching for the recent marriage between Bollywood and cricket, Juhi assured that the new season of IPL would continue to be as popular as last time
"Bollywood has recently been married off to cricket. Like all marriages the initial years are stormy. But I am sure, it will continue to rock and entertain people," said Juhi Chawla, the co-owner of Shah Rukh Khan's Knight Riders, about the upcoming second season of the Indian Premier League's Twenty20 tournament.
Juhi Chawla
Name game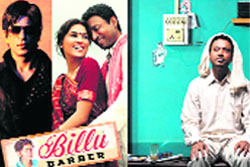 Bollywood actor Shahrukh Khan says he does not want to hurt the sentiments of hairdressers or evoke anyone's wrath
After a section of hairdressers objected to the word 'Barber' terming it as 'derogatory', Khan said that his production house Red Chillies has decided to drop the word 'barber' from all the posters. He said that since the film is slated for release later this week, there isn't much that can be done. But he added that he doesn't want to invoke the wrath of any section of the society.
Stumbling block
Miss India tag has been a deterrent for me: Gul Panag
Gul Panag says she always wanted to do meaty roles in films, but her Miss India crown often proved to be a stumbling block as many filmmakers thought beauty queens could only sing and dance on screen. "A lot of times, because of my beauty pageant win, filmmakers thought that I won't be able to carry off an intense role and will be only suitable for singing and dancing. So it was not easy for me," the actor said.
Filmfare fanfare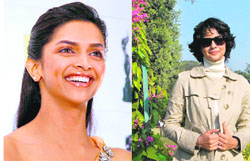 The 54th edition of the Filmfare awards ceremony will take place in Mumbai on February 28. Tarun Rai, chief executive officer of the Worldwide Media Private Limited, announced the date in the presence of Bollywood actor Deepika Padukone.




Deepika Padukone at the announcement of the Filmfare award function/Gul Panag
Millionaire moment
Irrfan Khan wins award for outstanding contribution to cinema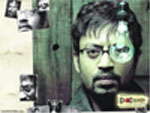 Bollywood actor Irrfan Khan, who has made a mark with his histrionics in his recent Hollywood flick Slumdog Millionaire, has been honoured by the British House of Commons for his outstanding contribution to the Indian cinema.The versatile actor received the award from Khalid Mahmood, Labour MP from Birmingham Perry Barr in the House of Commons last evening. —
Irrfan Khan
Behind the mask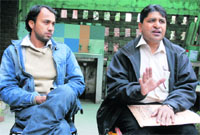 Mask Theatre group brings to tricity a five-day fest


No social message or ambitions to change the society, Mask Theatre group isn't aiming too high. Their sole purpose is to present famous literary works through acting on stage. "We wish to entertain people by enacting these classic stories," asserts Vijay Kumar Machal, president of the group. — Photo by S. Chandan
Now get ready to welcome 150 students from South Asian universities who will showcase their talent at SAUFEST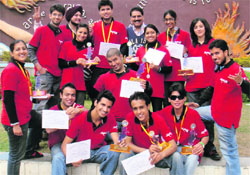 Students, alumni, alma mater, faculty, fraternity, fellow universities and even outsiders! All those associating Panjab University with violence, rallies and elections need to do a serious rethinking. Flip! And it's impossible to miss vibrant, vivacious youth, a string of colourful fests, student organisation and cultural exchange programmes. This time, it's the SAUFEST. Starting tomorrow, Panjab University will host for the first time, the IV South Asian Universities Youth Festival.

Group members of Aaghaaz

i tone
Valentine blahs
| | |
| --- | --- |
| Dil vil pyar vyar | Taal se taal mila |
| | |
| This Valentine wear your heart on your hand, for who knows who steals it, when and where Photo:S.Chandan | Bollywood actor Madhuri Dixit (middle) performs at NDTV and Toyota's Greenathon in Mumbai. PTI Photo |