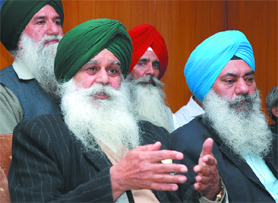 Ajmer Singh Lakhowal, president of BKU, Punjab, with Charan Singh Lohara, president of All-India Motor Transport Congress, demands reduction in diesel prices at Punjab Bhawan in New Delhi on Wednesday. Tribune photo: Manas Ranjan Bhui

22-year-old girl kidnapped, returns within hours
Greater Noida, February 11
A 22-year-old girl was kidnapped from the Dujiana area falling under the Badalpur police yesterday. However, she returned home on her own within three hours. Badalpur is the home village of UP Chief Minister Mayawati and the Badalpur police station was set up just last month.
JNU students, admin fail to see eye to eye on demands
New Delhi, February 11
The first round of negotiations between the Jawaharlal Nehru University Students' Union (JNUSU) representatives and the university administration failed in the afternoon today. The JNUSU office-bearers said the administration had refused to change its stance to commercialise the university.
Special traffic drive fails to check accidents
29 dead, more than 40 hurt in 10 days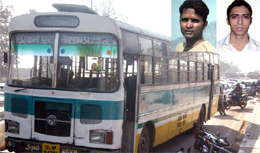 New Delhi, February 11
Twenty-nine persons lost their lives while more than 40 were injured in accidents during the 10-day special drive launched by the Delhi traffic police. With an average of three deaths reported every day, the traffic police is under pressure to come up with measures to arrest the trend.
A file photo of the Blueline that met with an accident and the victims.
IT industry's initiative against AIDS
Gurgaon, February 11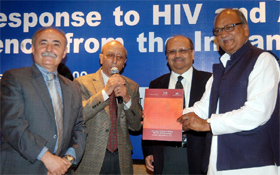 A compilation of case studies on the initiatives and experiences of the country's eight leading IT companies in addressing issues related to HIV/AIDS was released in the form of a booklet at a function organised by the Confederation of Indian Industry (CII), India Business Trust (IBT) for HIV/AIDS and the World Bank Institute (WBI) here today.
MP Nikhil Kumar releases the booklet in Gurgaon on Wednesday. Tribune photo
First verdict in Nithari killings likely today
New Delhi, February 11
A special court is likely to pronounce its first verdict in the grisly Nithari killings on Thursday, more than two years after body parts of 19 children and young women who had been sexually abused and mutilated were found from a drain in the suburb of Noida.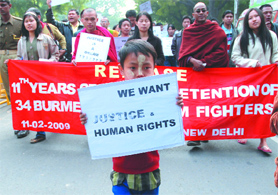 Myanmar pro-democracy activists protest against the alleged detention of freedom fighters in Indian jails for the past 11 years, in New Delhi on Wednesday. Tribune photo: Manas Ranjan Bhui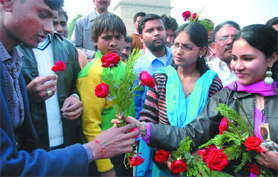 Activists of an NGO give roses to passers-by to protest against some organisations which are out to create a ruckus on Valentine's Day, at the India Gate in New Delhi on Wednesday. Some organisations have threatened to forcibly marry off couples found dating on Valentine's Day. Tribune photo: Manas Ranjan Bhui

Satte gang member held
Green Park Shootout
New Delhi, February 11
The South district police arrested Amit alias Sonu Chikna, 25, accused of being involved in the January 19 Green Park shootout, last night from Jhandewalan. Sonu, an aide of Satya Prakash alias Satte, had been absconding since January 19.
2 snatchers held
Noida, February 11
The Noida police has claimed to have busted a snatchers' gang. Two alleged snatchers are in the police net while the third one has managed to escape. The arrested persons have confessed to their crime.
Govt mulling healthcare for the poor: Kiran
New Delhi, February 11
Minister of health and family welfare Kiran Walia said the government was duty-bound to provide quality treatment to the unprivileged. "Health facilities must be provided all, including the poor," she stressed.
Taxi robbed in Gt Noida
Greater Noida, February 11
An Indigo car being used as taxi was robbed at gunpoint in Greater Noida from near Pari Chowk on Monday night around 10 pm.
Punjabi Sabha general secy joins BSP
Faridabad, February 11
The Bahujan Samaj Party (BSP) today got a boost in Faridabad with the national general secretary of Akhil Bhartiya Punjabi Sabha, Anand Kant Bhatia joining its fold. He has joined the BSP as the president of the Faridabad (urban) unit of the party.