The Stone Age
Garden accessories carved out of stone promise your garden an instant facelift. They look beautiful, weather well & are difficult
to steal! Howzzat?
YOU can grow your garden into happy hunting grounds without really pruning your bank balance. Really, you do not need to cultivate a professional landscape artist or mingle your sweat with the earth below for harvesting the pleasure of relaxing in greener pastures.
Double Dhamaka for Dehradun
Uttarakhand capital sheds no-five-star tag: One to be built by Olympian Abhinav Bindra's family & the other by Emaar MGF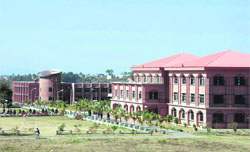 WITH tourism as mainstay of the Uttarakhand economy, decks have been cleared for setting up of the first five star hotel in the state capital, Dehradun. In fact, the state government has given clearance for the construction of two five-stars.



The Emaar MGF hotel would come up near this government hotel management institute in Garhi area.

No longer maal-a-mall
It's a tale Ludhiana's realty sector would rather forget. CHARU CHHIBBER reports on the mall fiasco
ABOUT a year back, malls were sprouting up in Ludhiana almost on an everyday basis. Over 20 malls, shopping complexes and multiplexes were set to come up, the hottest destinations being Ferozepur Road and GT Road on the Ludhiana-Jalandhar segment. In 2007, a whopping Rs 6,000-crore investment was estimated in construction of malls over the next two years.
When the brave opened shop
| | |
| --- | --- |
| The Global Mall site on Jalandhar Bypass Road, Ludhiana. | Site for Aerenor Mall on Jalandhar Bypass Road in Ludhiana wears a deserted look. |
GREEN HOUSE
United colours of nature


Synchronise your plants' flowering cycles & your garden will be a riot of colour all year round. Remember, colour doesn't come from seasonal flowers alone, give these evergreens a try!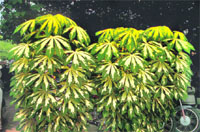 A GARDEN is not just about planting the place green. Similarly, a green thumb also does not mean creating a green patch. In any garden, the all-green lawn is dominant and supplemented with all green shrubs, occasionally giving a spray of colours. My definition of a garden, however, is colour, more colour, and some more colour.
A few cassava plants can light up the garden during the no-colour period.
DLF to launch Infopark in Bhubaneswar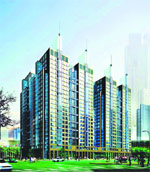 REAL estate giant DLF has announced launch of an Infopark in Bhubaneswar at an investment of Rs 1,000 crore as the Orissa Government hoped the city would turn into a favoured destination of global IT players. The IT SEZ would play a key role in attracting global IT giants to set up their operations in Bhubaneswar, chief minister Naveen Patnaik said, laying the foundation stone of DLF Infopark, which would come up in phases over 25 acre land and generate about 40,000 direct and indirect employment opportunities.
…withdraws from Kolkata project
Buying, selling property just got tougher
State govts advised to verify eligibility of individuals under FEMA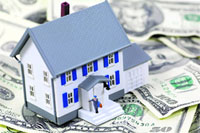 THE Government of India has advised state governments to be extra vigilant in matters of acquisition and transfer of immovable property in India by individuals residing outside India. It has asked governments to satisfy themselves about the eligibility of individuals under the Foreign Exchange Management Act (FEMA) before registering a sale or purchase of immovable property in India.
This column appears weekly. The writer can be contacted at sc@scvasudeva.com

Deciphering Deduction
Only principal amount counts
n Renovation: Upper limit Rs 30,000
n No tax if...
n To save CGT, keep plot for three years