Shivratri celebrated with fervour in Abohar
Abohar, February 23
Hundreds of men and women thronged the Shivratri celebrations at Rajyoga Centre of Brahmakumrias on the old Fazilka road here today. The presence of V.K. Sharma, former commandant of the CRPF battalion, which had provided tight security cover to this
15 farm houses identified for rural tourism
Bathinda, February 23
With the dual aim of promoting rural tourism along with providing an alternative business to farmers of the state, the Punjab Heritage and Tourism Promotion Board (PHTPB), under the Punjab Farm Tourism scheme, has selected 15 rural accommodations throughout the state.
Preventive measure after drama on Sunday
24x7 vigil by cops on high-altitude structures
Bathinda, February 23
Following yesterday's high-voltage protest with the EGS teachers climbing atop a water tank, the Bathinda police have taken preventive measures to avoid any such situation in the near future.
Gidderbaha RO model to be replicated
Chandigarh, February 23
There is a ray of hope for cancer, arthritis and gout patients of the Malwa region with the state government announcing reverse osmosis (RO) water treatment plants in 471 worst-hit villages in districts of the region. The decision has been taken based on the success of RO pilot project in 57 villages of the Gidderbaha constituency that has completed a year of operation.
Board exams: Schools conduct special classes to prepare students
Bathinda, February 23
The Board examinations are about to begin and tense students have already started having sleepless nights. There is anxiety and nervousness among the students. The schools have taken steps to cut down the mounting tension among the students.
Injured protesters seek medical aid
Bathinda, February 23
After staging a protest in the city yesterday, the EGS teachers today met DC Rahul Tewari to know the status of their pending demands. They said they would continue their dharna till they are admitted to the desired course. They have also demanded medical aid for the members injured in the lathicharge.
Admn identifies 302 booths as sensitive, 42 as hyper-sensitive
Moga gears up for LS polls
Moga, February 23
The district administration of Moga has identified polling booths, printed voter lists, short-listed the required polling staff and made all other arrangements for the ensuing Lok Sabha elections in its area.
SAD people-friendly: Harsimrat
Mansa, February 23
"It is only the SAD which has tried to resolve the problems of the people," said Harsimrat Kaur Badal, wife of Deputy Chief Minister Sukhbir Badal while addressing to public meetings in Budlada today.
Only CPI can fight for masses: Arshi
Mansa, February 23
"The communists had defeated the feudal and dynastic forces during the freedom struggle," this was stated by Hardev Singh Arshi, CPI Lok Sabha candidate from Bathinda while addressing public meetings at different villages. He addressed people at various places like Mansa, Budhlada, Bhainibagha, Khiala, Tamkot, Burjhari, Ubha, Burjdhilwa, Bhikhi, Chakalisher, Dharmpura and Saidewala.
Kohar: Nambardars can contest polls
Mansa, February 23
"Tehsil complexes have been set up at all 40 tehsil headquarters of Punjab by spending Rs 25 lakh on each. Along with this, the problems of the farmers too would he solved through Suvidha Kendras," said Ajit Singh Kohar, revenue minister, Punjab, at Mansa tday. He was addressing a state-level function of nambardars.
Sufi saint's statue unveiled in Moga village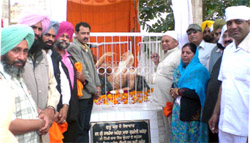 Moga, February 23
A statue of Baba Farid, one of the most revered and distinguished mystics of the medieval period, was unveiled by the local Congress MLA Joginder Pal Jain in Gurudwara Dera Baba Bhai Sewa Singh at village Singhawala on the outskirts of this town on Sunday.

The statue of Baba Farid unveiled at village Singhawala. A Tribune photograph

Officials shifted
Fazilka, February 23
In view of the ensuing Lok Sabha polls, there has been an administrative shake up in Fazilka. DSP Fazilka Rachhpal Singh has been shifted to PAP battalion, Amritsar. He will be replaced by Hargobind Singh.