PUNJAB
HARYANA
JAMMU & KASHMIR
HIMACHAL
REGIONAL BRIEFS
NATION
OPINIONS
LETTERS
BUSINESS
SPORTS
WORLD
Every Wednesday & Saturday
City of temples turns into concrete jungle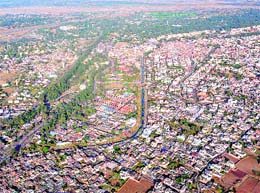 Jammu, February 24
The city of temples has been fast turning into a jungle of concrete, thanks to the Jammu Municipal Corporation (JMC), which perhaps has buried its head under sand like an ostrich for obvious reasons

Jammu, which falls in the seismic zone is fast turning into a concrete jungle. Tribune photo: Anand Sharma
Eco-tourism plan on cards
Jammu, February 24
The wildlife department is formulating an ambitious eco-tourism plan through the Jungle Lodges & Resorts Ltd, a government of Karnataka undertaking, for the state-owned wetlands for Wular, Hokersar-Shallabugh, Tso-moriri-Tsokar, Surinsar-Mansar and Gharana wetlands. The said plan will be implemented in collaboration with the state tourism department and the Ministry of Tourism, the Government of India.
Sainik school out of bounds for poor
Jammu, February 24
Sainik School, Nagrota, the only residential school in the state, seems to be out of bounds for the children belonging to the poor section of the society, for which the institution was primarily inaugurated by the then Defence Minister Jagjivan Ram way back in August 1970.
Sheeraj residents face shortage of essential items
February 19, 2009
Ropeway project makes no headway
February 18, 2009
International airport in Srinagar to boost tourism
February 14, 2009
Private schools charge exorbitant fees
February 11, 2009
Lack of infrastructure mars tourism in Bani
February 7, 2009
Cross-border trade a damp squib
February 4, 2009
Gharana wetland falls prey to encroachers
January 31, 2009
Drive to remove illegal beacon lights launched
January 28, 2009
Urbanisation poses threat to Samba village
January 24, 2009
New Assembly brings young blood in politics
January 21, 2009
Polled less than required votes, yet a winner
January 17, 2009