Six-day hospital strike ends
New Delhi, February 28
The Group C and D employees of Delhi government hospitals call off their six-day-long strike here today and returned to work with immediate effect.
18 robbers decamp with loot worth Rs 10 lakh from Gt Noida house
Greater Noida, February 28
Eighteen armed robbers forced their way into a businessman's house in Delta-3 Greater Noida yesterday morning and decamped with cash, jewellery and valuables worth Rs 10 lakh in just a matter of few minutes.
Summer still far, but water crisis is here
New Delhi, February 28
Even before the arrival of summer, Delhi has started witnessing water problems. Along with river Yamuna, the level of water in Western Yamuna Canal, which provides water to Haiderpur and Nangloi water treatment plants, has gone down noticeably. Decreasing water-level in Western Yamuna Canal in turn is also affecting the functioning of Chandrawal and Wazirabad water treatment plants.
Gurgaon in for crisis as water level going down
Gurgaon February 28
Things like price tag on drinking water and rationing of water for bathing could soon be the situation in Gurgaon, if citizens of this millennium city and the local administration do not give any heed to the recent report of the Central Ground Water Board. The administration admits the fact, but passes the buck on to the citizens and to the rain god.
2 grooms ride to weddings in choppers
Noida/Ghaziabad, February 28
There have been several occasions when the rich and the famous in India have used choppers to arrive for their weddings by making a style statement - and Delhi's neighbourhood got to see two such examples on Friday.
Poll roll up for inspection: CEO
New Delhi, February 28
Chief Electoral Officer, Delhi, Satbir Silas Bedi, yesterday claimed that the final electoral roll is now available for inspection by citizens of the Capital to check their names and other particulars. The electoral roll will be available at the offices of voter registration and election photo identity card centre (VREC) of the assembly constituency, offices of electoral registration officers and booth level officers.
A rare depiction of today's urban society
New Delhi, February 28
Dressed in a dapper dark grey suit, the award-winning author Siddharth Dhanvant Shanghvi presided over the launch of his much-awaited second book, The Lost Flamingoes of Bombay.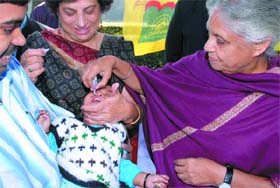 Chief Minister Sheila Dikshit administers polio drops at her residence in New Delhi on Saturday. Also seen is health minister Kiran Walia. Tribune photo

Sex racket smashed; 9 girls rounded up
Noida, February 28
The Noida police has busted a sex racket in the town and arrested nine girls, including a Nepalese girl and seven pimps. According to the police, this racket had been on for the last few months.
Govt refusal to hike councillors' fund critised
News Delhi, February 28
A race is on between the Congress ruled Delhi government and the BJP ruled Municipal Corporation of Delhi (MCD) to gain maximum goodwill prior to the general elections.
Terror suspect Peerbhoy in police custody
New Delhi, February 28
Mohammed Mansoor Peerbhoy, a computer engineer who is an alleged key operative of the Indian Mujahideen, the terror outfit blamed for last year's bombings in major cities of the country, was Saturday sent to 10-day police custody by a court here.
Bad management of DTC causes losses: CAG
New Delhi, February 28
Mismanagement in the Delhi Transport Corporation (DTC) and operation of Volvo buses without ensuring their financial viability have caused a loss of crores of rupees to the transport department, said a report by Comptroller Auditor General.
3 die, 50 hurt as bus falls into dam
Palwal, February 28
Three persons died and about 50 were reportedly injured when a bus carrying a marriage party fell into Dhatir dam near village Dhatir, about 10 kms from here.
109 MCD staff retire with dues
New Delhi, February 28
On attaining the age of superannuation, 109 employees of the Municipal Corporation of Delhi today hung their boots, and they were happy as they returned home with their terminal dues.
CM for rainwater harvesting
New Delhi, February 28
Chief Minister Sheila Dikshit exhorted the citizens of Delhi to adopt rainwater harvesting system to curb fast depleting underground water level.
Cash stolen from parked car in Ghaziabad
Ghaziabad, February 28
A businessman was allegedly robbed of Rs 3 lakh by unidentified thieves in the busy Arjun Nagar area of Ghaziabad on Saturday, the police said.