Kunal uncut
He prefers to ride a bicycle to conserve energy, and would rather read a book than party hopping and posing with the 'right' people. Well, this one sure does not believe in wearing that starry aura around
Jasmine Singh
How much can you write about the actors, their upcoming projects, hits and misses? And, how much can you really peep into their personal life- what do they eat for breakfast, what fitness regime they follow, which school their kids attend, what do they eat on weekends, their favorite colour, their pet's name, ex-flames, new ones…? "How much do you want to know, tell me," asks actor Kunal Kapoor. However, he too, like us has heard the word 'duty'. So, we feel free to shot our questions, trying our best not to sound repetitive.

Kunal Kapoor poses with Logan Edge Connect
Salaam Bombay
City girl Riya Sahni is one of the 25 finalists for the Gladrags Megamodel Hunt
Jigyasa Kapoor Chimra
Creating a frenzy, stirring emotions, moistening eyes and making waves, that's what beauty contest does to many. And when a name like 'Gladrags' it attached to it, you bet the flurry is going to be much more than what you thought.

OBJET D'ART


Bazaar buzz
For us the mall-culture generation, these paintings on famous traditional markets sure evoke nostalgia
Parbina Rashid
Amazing how one fails to see the obvious in his own surroundings until one looks at it through someone else's eyes. This is exactly what happened to me. Having lived in the vicinity of Adalaat Bazaar in Patiala, all I noticed about it were the narrow galis, congested with cars and rickshaw-pullers, the crowded shops and hanging wires.


| | |
| --- | --- |
| | |
| Bheem Malhotra's Adalaat Bazaar in Patiala | Lal Haveli in Lohari Mandi Bazaar |
CREATIVE ZONE


Lukhnavi adaa
SD Sharma
Preserving and proliferating the rich family legacy of Urdu literary ethos in the Western countries is Sheba Lukhnavi, who comes from a family of erudite poets like Majaz Lukhnavi, Jan Nissar Akhtar and Javed Akhtar. Settled in Toronto, she is a frequent visitor to India and spends a few months in Lucknow every year.



Nach ballerina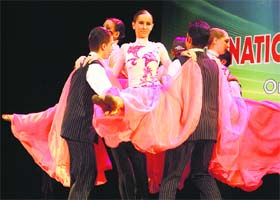 Colour meets coordination in this performance by ballet dancers in the city Lifestyle photo: Kamal Kishore

SIDE LANES


Fraternities
Joyshri Lobo
When Vijai Vardhan rang up, asking us over for lunch, I groaned, as fraternal gatherings invariably tend to be ego trips with spoons full of nostalgic, mushy memories to which outcasts cannot relate. Our spirits sank further when the eminent guests asked if Oz and I were Stephenians, for that seemed to be the only criterion.

Jumbo problem
Lack of fresh talent is pushing Indian circus towards extinction
Once a major mass entertainment, Indian circus is virtually on a tight-rope walk due to the difficulty in getting new talent to join the art and lack of institutional support for the profession. A handful of companies now left in India are literally struggling to survive in the changed scenario, forcing most to cut short much of the pomp once associated with the art, according to managers of some companies that are still active.


First day, first show
Explore the best at Jhankaar, the annual fest of PU, for a bagful of masti and dhamaal
Neha Walia
Girls showing off the best and the latest in their wardrobe, guys showing off the best and the latest in their garage. There was the usual rush, the usual geris and the usually stuffed Student Centre at Panjab University.
— Photo: Kamal Kishore

Women behind wheels
Celebrating International women's day on March 8, SantaBanta.Com, brings to the city 'SantaBanta.com Women's Car Rally 2009'. Also running simultaneously will be the 'SantaBanta.com Vintage & Classic Car Rally 2009'. Having become an annual feature, the Women's Car Rally and the Vintage & Classic Car Rally are in their third year. he registrations for both the car rallies are open till March 6, 2009.



Time machine
Going back and forth in time Bollywood's new craze
Joginder Tuteja
One often wonders what the future has in store for us and shrugs it off quickly, but Bollywood doesn't seem content doing that. The film industry has quite happily grabbed the idea of getting into a time machine in as many as four forthcoming movies. The films that are ready for release and bear a common theme of venturing ahead or back in time are Aa Dekhen Zara, 13B, Kal Kissne Dekha and Tasveer 8X10.



To Daddy with love
Big B in new 'phenomenal' look in Paa
Superstar Amitabh Bachchan is sporting a "phenomenal" new look in his upcoming home production Paa, the make-up for which takes four hours, the actor wrote in his blog. "My rituals today were guided by the extensive hours at the studio, a major portion of which were in front of the make up mirror, getting the face plastered with silicon," the actor said in a recent post on his blog.


No more cameos for Madhur
After a blink and miss appearance in hit film Fashion, filmmaker Madhur Bhandarkar says he has no plans of doing a cameo again as he knows he is a "bad actor". "I did a cameo in my film Fashion, which I believe was very bad and that's why I don't want to repeat the same. I can make people act but acting is not my forte," Bhandarkar said.
KOFFEE BREAK
Here I come
She has mesmerised many with her long locks and kohl lined eyes. This graceful Poonam Dhillon is back with her new film, 13B, which revolves around a television set that creates havoc in the life of a family. The movie would see her playing the role of a mother to Madhavan.


HELLO! TUNEZ
Melody mix
13 B: This is certainly not Shankar Ehsaan Loy's best offering. Neither is it the worst. Midway, it is still better than the products of many run-of-the-mill composers. They have been well served by their lyricist Neelesh Misra who is improving with every outing. At times, he reminds you of Javed Akhtar and Gulzar. Shankar Mahadevan is as usual the mainstay both as the composer and singer. The film revolves around a TV programme called Sab Khairiyat Hai.