Doon revels in Holi spirit
Divya Semwal/Vishal Thakur
Tribune News Service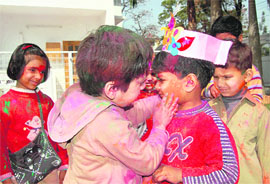 Students of Cherry Fields School celebrate Holi on Saturday in Dehradun. A Tribune photograph
Dehradun, March 7
As Holi is just around the corner, city markets are full of variety of colours and toys. Local have already began their Holi shopping and are busy buying gulal, water colours and water guns (pichkaris).
Gulal or Abhir colours are considered auspicious and are more in demand as they are dry in nature. "Red gulal is always in demand," said Money Arora, a salesman.
Children love to play with vibrant colours which are sticky and hard to remove. "Youngsters like to play Holi with water guns and water balloons," said Money.
"As I am allergic to water colours, I have purchased gulal to celebrate the festival with my grand children," said Sarita, a grandmother.
Due to the withdrawal of ban on Chinese toys, a large variety of attractive Holi toys are available in the market. Chinese water guns are preferred over Indian as there are economical and latest in technology. For this Holi, we have got water guns available in interesting shapes like teddy bear, dinosaurs and other animal figures, which are huge and can be filled with almost six liters of water," said Mukesh Aggarwal, owner, Bombay Toys. "I loved the dinosaur water gun, and I purchased one for my younger brother," said Mohit a student.
"Along with Indian we have China tanker water guns and mini water capsules, which are latest and hot favourite among kids," said Naushad, a salesman.
However, herbal colours are also available, which are safe and eco-friendly. "Being eco-friendly, herbal colours are safe for skin. Liberal application of coconut oil is must to avoid rashes and skin problems after Holi," said Naushad.
Good food also plays an important role during Holi.
'Gujia' a traditional sweet item is especially made for the occasion. Kumar's a sweet shop is one of the oldest shops is selling fresh gujias for the festival.
"I make gujias and namkeens at home, but because I love Kumar's gujias I have purchased the item for my relatives," said Preeti, a housewife.
"With gujias we have even prepared angoori petha. For Holi with gujia, people also purchase our petha, chandrakala and rich dry fruit namkeens," said Jagdeesh, Bengali sweets.
Meanwhile, Anil Jaggi, president of Society for Environment and Wildlife Action Awareness (SEWAA) had a word of caution for all children.
According to him colours like violet, silver, black, purple and green contain harmful oxidants, which could cause allergy, temporary blindness, renal failure, skin cancer as well as respiratory and central nervous system problem.
Jaggi who has been organising Cleaner India program in Dehradun for the last eight years, propagating the celebration of Indian festival in an eco-friendly manner said, "All we want is to have a environment friendly colours to be used during the Holi festival. These eco-friendly colours could be prepared a home."
Jaggi expressed his ire over the lack of quality check over colours during Holi particularly in Dehradun. In the absence of the quality check unsafe colours are on sale in the market.
Green colour consists copper sulphate. Similarly purple is chromium iodized with other harmful substances, silver colour consists aluminum bromide, black (the highly toxic colour) consists lead oxide, violet that results in skin deceases like allergy, conjunctivitis; other such colour are sold unchecked in the open market.
The organisation is also organising a program on the March 9 to celebrate an eco-friendly Holi at home.
Meanwhile, Cherry Field Kindergarten kids today celebrated Holi with herbal colours at the school premises.
The school tried to pass on the message to the general public to avoid the use of synthetic colours during the festival of colours. The school management also took the opportunity to make parents aware of the importance of herbal colours and also informed them to prepare them at home.
Director of the Cherry Field Kindergarten, Rajeev Sachhar said, "Most of the colours available in the market contain oxidised metal, industrial dyes mixed with engine oil and other harmful substances which are extremely harmful for their skin. Therefore, we should make an attempt to celebrate Holi with herbal colours.
School gave herbal colours to children to play holi safely. On the occasion of Aakarshak and Yuvraj Rathore were chosen as Cherry Prince while Udyarvi Bhatia and Chiya Dutta were chosen as Cherry Princess.