Double trouble
Change in guard makes & mars
BATTERED by the global meltdown, the forthcoming Lok Sabha election has come as a double whammy for the real estate sector in Punjab. Investors are now wary of buying land, especially huge chunks, till the new government takes over at the Centre. And not without reason: Investors say that different governments make different policies about real estate and history has it that change in guard has made and marred investors.
First the global meltdown and now the General Election. Real estate continues to get a drubbing in Punjab & Uttarakhand. Team Real Estate tell you why & how


Lower circle rates for Dehradun
Model code stands in way
THEY tried but could not succeed. Realising the fragile state of realty, the Uttarakhand Government attempted to prop it up with a proposal to lower circle rates in the capital city of Dehradun. But the proposal has been put on the back burner due to implementation of the Election Commission's model code of conduct.
Tax tips
Date of possession decides
Within three years, it's a short-term gain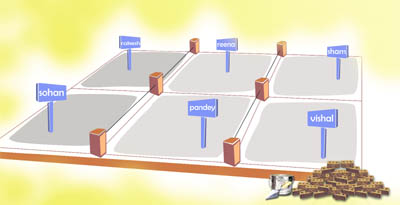 Q. I was allotted a plot by HUDA in March 1993 and possession of the plot was offered in December 1995. The sector in which I was allotted the plot has not been fully developed yet. I took the paper possession of the plot in January 2009, and till date I have not taken the physical possession. In case I sell the said plot after getting its physical possession in March 2009, which date will be accepted as date of acquiring the plot to determine the gain as long term capital gain or short term capital gain? Please advise.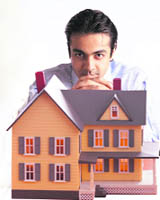 Get your dream home, now!
Home loan borrowers shift to public sector banks as they freeze home loan rate at 8 pc
HOME loan customers are now increasingly shifting their loan accounts from private sector banks to public sector banks. Low interest rates in public sector banks are stimulating demand and luring both new and existing borrowers. There is a great rush at State Bank of India counters across the country, as customers have started making queries about shifting their loan portfolio from private sector banks. Recently, SBI introduced an 8 per cent home loan rate offer, valid for a year, for new borrowers.
Stay in Oman, work in UAE to beat high rents
FRUSTRATED by the high rents in the UAE, many expats and nationals are now living in the neighbouring Oman and working in the UAE in order to make both ends meet. People working in Abu Dhabi, Dubai and Al Ain are increasingly looking to reside in Buraimi, property agents say.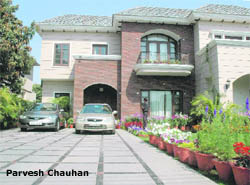 TREND MILL
Hard to beat
Granite is versatile, sturdy yet chic and comes in 80 colours. Ceramic tiles, step aside: the stone of the future is here
GRANITE can leave you floored. That's right, folks. When it comes to stones, it's hard to beat granite. No wonder, it's hammering the old tiles out of the walls and the floors in houses, even commercial establishments, all over. You too can use it to spice up the kitchen décor. It's hot when it comes to kitchen renovation.
GREEN HOUSE
Marvel in a bottle
Water is known to nourish plants. So, how about using it as a medium to grow plants? Well, SATISH NARULA tries his hand at it & finds that it's not just the money plant that thrives on water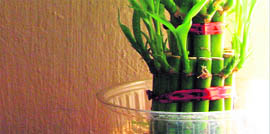 NO life can exist without water, we have all read. It is essential for the uptake of nutrients by plants and maintains body temperature in all life forms. But is it a plant propagation medium too? Yes, yes and a very effective one. I have tried and successfully grown many 'hard' plants with success. Water is a gardener's delight in more ways than one.
Whither slowdown?
Ambuja Realty to unveil three projects in the next five months, will review long-term investment plans
NOTWITHSTANDING the slowdown, Kolkata-based developer Ambuja Realty plans to unveil three new real estate projects in West Bengal this year, a top company official said.