BJP workers stage protest
Move to nominate samiti leaders for LS
Jammu, March 15
The discontentment among BJP party workers over strong speculation of nominating advocate Leela Karan Sharma, former convener, Shri Amarnath Yatra Sangharsh Samiti (SAYSS) for the Jammu-Poonch Lok Sabha (LS) seat, and Jatinder Singh, senior leader, SAYSS, Doda-Udhampur constituency, has come to the fore.
BJP supporters protest in Jammu on Sunday against the move to nominate Amarnath Yatra Sangharsh Samiti leaders for the LS poll. Photo: Inderjeet Singh
Insurance Co not liable for death of gratuitous passenger: HC
Jammu, March 15
Justice Hakim Imtiaz Hussain of the J&K High Court of Judicature in an important decision held that the Insurance Company is not liable for the death or injuries to person/s travelling in a goods carrier.
Displaced families facing hardship
Assar (Ramban), March 15
Concerned over the future of his family, fear looms large over the face of Abdul Gani Shan, who has lost everything, including shelter and source of livelihood as his agricultural land and home were acquired by the authorities to construct alternative road to connect Doda and Kishtwar districts with rest of the country.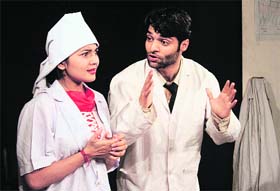 Hilarious play ' Doctor Palta ' written by Balwant Gargi and directed by Balwant Thakur is presented in Natrang's weekly theatre show in Jammu on Sunday. Set in a small town of Punjab in the late sixties, the play is a contemporary satire depicting the early struggle of professionals in establishing their businesses. Tribune photo
Nazool land occupants seek amendment to Roshni Act
Jammu, March 15
Forum of Occupants of Nazool Land (FONL) has appreciated Finance Minister Abdul Rahim Rather's statement on occupancy of the state land vis-ŕ-vis the ownership rights.
J&K Bank widens ambit of sops for exporters
Srinagar, March 15
Extending the ambit of its relief and rehabilitation package to exporters of the state, Jammu and Kashmir Bank has decided to provide interest relief to local ones in the wake of meltdown in the global markets.
Baglihar 'not eligible' for carbon credits
Jammu, March 15
The Jammu and Kashmir State Power Development Corporation (JKSPDC) today said the 450 MW Baglihar Hydro-Electric Project was not eligible for seeking carbon credits under the Kyoto Protocol signed by India as the project was started much before the Protocol came into place.
Three years on, school building not rebuilt
Poonch, March 15
Three years after the building of Government Primary School, Phagwari, in the Mandi area, collapsed due to strong winds and heavy rainfall, the government is yet to repair it, forcing students to study in open. They have to wind up their studies during rainy days with no school building.
NC blames Mufti for erosion of special status
Srinagar, March 15
The ruling NC has blamed opposition PDP patron Mufti Mohammad Sayeed for playing "politics on the issues like autonomy" saying the former Chief Minister was involved in "dismantling the strong edifice of special status".
Lashkar help held with hawala money
Jammu, March 15
A financial coordinator of the Lashkar-e-Taiba (LeT) was arrested and Rs 50,000 in hawala money seized from his possession in Rajouri district, police sources said here.
23 injured in accident
Udhampur, March 15
At least 23 passengers were injured when a vehicle rolled into a deep gorge near Mahore in Reasi district. Five injured have been shifted to a Reasi hospital with others undergoing treatment at Mahore.
Army contains forest fire
Rajouri, March 15
A few days after the fire reached near three villages--Kanga Gali, Panjni and forward Balakote-- along the LoC in this district, local sources said the Army had managed to prevent the fire from spreading to this side in the Dabbi forest area.
Pak intruder shot dead
Jammu, March 15
The BSF late last night gunned down a Pakistani intruder while trying to infiltrate into India. According to deputy commandant S. Balasubramaniam, BSF jawans deployed at the Kotkuba border outpost in RS Pura sector found a Pakistani intruder moving towards the fence.
School annual day
Jammu, March 15
Heritage School, Jammu, celebrated its annual sports day on Sunday in which Minister for Industries and commerce, labour and Rural Development S.S. Salathia was the chief guest.
Sadhavi Ritambhra for universal civil code
Rehari, March 15
Sadhavi Ritambhra, firebrand leader, who came to attend the congregation of religious Hindu leaders at Rehari in Jammu, urged people to vote for those candidates who can protect the Indian culture and sovereignty.
Programme for entrepreneurship
Srinagar March 15
The Jammu and Kashmir Entrepreneurship Development Institute, under the Prime Minister's Employment Generation Programme, started a two-week programme in Pulwama on Saturday.
One held on murder charge
Srinagar March 15
The police has solved within 12 hours the murder case of class IV student whose body was found from a jungle in Pahalgam (Anantnag).
2 houses, 2 shops gutted
Udhampur, March 15
Two houses and two shops were gutted in devastating fires that broke out in Kishtwar and Udhampur districts late on Saturday night.