Mayawati dashes HJC's tie-up hopes
Hisar, March 16
Uttar Pradesh Chief Minister Mayawati's decision to go it alone in the Lok Sabha elections has put a damper on Kuldeep Bishnoi's hopes to reach a tie-up with the Bahujan Samaj Party via Third Front route.
Chain snatchers active in Rewari
Rewari, March 16
The cases of chain snatching from women are on the rise in the district. While women continue to flaunt their gold ornaments during fairs and wedding ceremonies, chain snatchers, too, become active on all such occasions.
Thermal plant a cause of misery
Khukhrana (Panipat), March 16 Though the Panipat thermal power plant stands tall, contributing its bit to the overall development of the state by providing the much-needed power, it has also become a cause of misery for residents of this dusty village in the district.
Buddhist remains found in state
Kurukshetra, March 16
The holy land of the state or the ancient Kurudesha or Kurukshetra has been a witness to moments and events of historical, cultural and religious importance.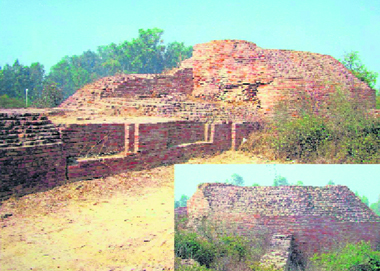 A Buddhist stupa near the Kurukshetra University campus.
A Tribune photograph