Village women take on MNC brands upmarket stores brands
Neena Sharma
Tribune News Service
Dehradun, March 22
Several processed food products made by a women's cooperative from Kaleshwar and Raiwan valley in Uttarkashi district of Uttarakhand are vying for a place in upmarket food stores dominated by MNC brands.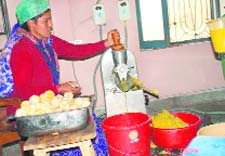 A woman extracts juice at a processing unit in Uttarkashi A file photo
Making a humble beginning in 2003, the cooperative has gained in strength with more than 200 women engaged in the production and sale of mouth-watering pickles and jams, giving value addition to the locally grown fruits.
As of now, 250 women of 22 groups are actively engaged in the production and sale of garlic, ginger, chilli and mixed vegetable pickle. The latter comprises mango and seasonal vegetables. The women also make fruit jam, chutney and amla candy.
The products sold under the brand names of "Rawain's Nature Pure" and "Switchon" have alsomade a foray at Dilli Haat and were an instant hit.
Creating and sustaining self-help groups without a business plan is a tall order, volunteers of NGO Himalayan Action Research (HARC) motivated the rural women of Ranwain and Kaleshwar villages to utilize locally available resources for generating income.
Self-help and smaller thrift groups were already engaged in small activities. The task at hand was to organise them for a major initiative that would not only bring them financial gains, but also help rural women gain experience in working in larger groups.
"Most of these women were not shy of taking risk and required only institutional support. Before the initiative, the HARC conducted an evaluation exercise with various groups in Rawain and Kaleshwar to assess the financial status and management skills of self-help groups," said Chaya Kunwar, senior programme coordinator.
At the end of the exercise, 22 women groups were selected for group-level orientation. The orientation was aimed at building risk-taking capacity of women.
"The women members were told about the benefits of an activity, if managed collectively and systematically. As we went about imparting training, the women began to gain confidence and exhibit their ability to take chances, thereby increasing their confidence and earnings. Processing units were set up at convenient and accessible places," said Ganesh Uniyal, technical trainer.
The total turnover of the group in the year 2008-09 was Rs 10,97,628. Initially, a single group started making pickle. Each woman managed to rake in a net profit of Rs 500 in the first round of production.
"I was the first one to start garlic pickle production here. Now, I regularly go to the HARC unit and train other women," said Mohini Devi.
A master trainer, her capacities are so developed that she now provides training to other group members. Mohini is a member of a cooperative and resident of Dhari village in Naugaon block.
During orientation programmes for developing micro enterprise at Dhari village she was the one who initiated the activity. She motivated other members of the group for starting income-generation activities.
The movement has now grown and several self-help groups are now marketing their products. Siddhant, a self-help group managed to transact a sale of Rs 50,000 in the last seven months through the sale of jams and jellies.
"We are happy with the sale of our products, we are now reaping the fruit of our labour. Several fruits are grown in our area, but it is only now that we diversified," said Muni Dimri, member of the group.
The activity is self-sustaining; the products that are being produced by them have so far got a good response at the local market.
"We did not face any difficulty in marketing our products as most of our pickles and jams get sold in the local market. Whatever extra is made is then offloaded to nearby markets and then carried to Dehradun and other major cities.
"We are aiming big in the future and plan to take up other activities. I have found a new purpose in life.
"As soon as I complete my domestic chores, I am off to the processing unit," said Usha Semalti, treasurer, Ekta Thrift Society, Langasu village.
The new option is helping women earn cash and not be completely dependent on their husbands for economic security. "Now, I can confidently plan for the education of my children; my purchasing power too has increased.
"I am more confident and willing to be part of another micro enterprise," said Shakuntala of Durga Sahitya Samooh, a self-self group.