BJP woos youth
Jammu, March 22
In order to attract and enrol more youth, the Bhartiya Janata Yuva Morcha (BJYM), the youth wing of BJP, today organised Yuva Matdatta Sammelans at Vijaypur and Samba.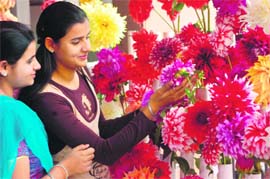 Girls adore colourful flowers at the 44th flower show organised by the Indian Institute of Integrated Medicine in Jammu on Sunday. Tribune photo: Anand Sharma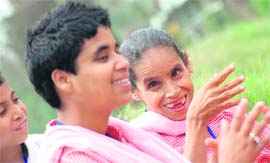 Special children enjoying themselves during "Fun games and special smiles" organised in Jammu on Sunday. Photo: Inderjeet Singh
Voices of dissent grow in BJP
Udhampur, March 22
Majority of leaders and workers of the Bhaderwah unit of the BJP have raised a banner of revolt against the decision of the party leadership to give mandate to a "traitor" for the forthcoming by-elections for the Bhaderwah Assembly segment on May 2, 2009.
Bhim Singh elected JKNPP chief again
Jammu, March 22
Prof Bhim Singh has been elected as the chairman of the Jammu and Kashmir National Panthers Party (JKNPP) for the next two years.
LS Poll: Ratan Lal asks party workers to unite
Jammu, March 22
The NC said today that the party was committed to the welfare, well being, prosperity and development of all three regions of the state and will fulfil all promises which the party made with people during the election campaign.
Nearly 45,000 govt employees to perform poll duty
Jammu, March 22
Even as the state is abuzz with political activity for the five-phase Lok Sabha elections on six parliamentary seats beginning April 16, approximately 45,000 government employees from various departments would be engaged for poll-related duties.
Leela Karan seeks probe into Purkhoo incident
Jammu, March 22
BJP candidate from the Jammu-Poonch parliamentary constituency Leela Karan Sharma has demanded a high-level inquiry and immediate attachment of Rajesh Sharma, Domana police station SHO, who resorted to heavy lathicharge on members of the farming community at Purkhoo.
Corporator's bid to encroach land recoils
Jammu, March 22
Nearly 300 persons protest against Jammu Municipal Corporation (JMC) corporator Rashida Begum at Bagh-e-Bahu area here today after she allegedly tried to encroach upon a piece of government land in Qaseem Nagar.
Sangharsh samiti to raise memorial to martyrs
Jammu, March 22
Shri Amarnath Yatra Sangharsh Samiti, which successfully spearheaded the 63-day long agitation last year, today decided to raise a memorial in memory of those, who sacrificed their lives for the cause, said samiti spokesperson Narinder Singh.
PDP for overall development
Jammu, March 22
Former Chief Minister and PDP patron Mufti Mohammed Sayeed today said his party was committed for equal treatment of all regions and sub-regions of the state. He said, during his tenure as the Chief Minister a path for people and equitable development was carved out.
Law students seek re-evaluation
Jammu, March 22
Seeking parity with rest of the departments in Jammu University (JU), students doing their masters in law have demanded a provision for re-evaluation in the examination rules.
VDC members forced to fight with archaic weapons
Jammu, March 22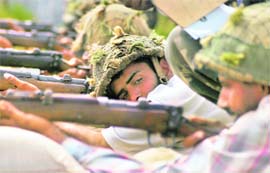 Country's political leadership has learnt nothing from Mumbai terror attack, four open conflicts with Pakistan and nearly two-decade-old militancy in the state. If an injured Mumbai cop had put up a valiant effort on 26/11 last year with an outdated 303 rifle that eventually led to custody of Ajmal Kasab, lone terrorist caught alive, the Village Defence Committees (VDCs) in militancy infested areas of Jammu and Kashmir also 'protect' their lives with the archaic weapon
VDC members being trained in using conventional 303 rifle at a training camp in Jammu. Tribune photo: Anand Sharma
War Against Polythene
Mosques, film director issue appeals
Srinagar, March 22
Expressing concern over polythene pollution in Kashmir, noted Bollywood director Vidhu Vinod Chopra, who basically belongs to Kashmir, said today that it was the responsibility of every Kashmiri to preserve the beauty of valley.
Save Dal Lake
Houseboat owners launch campaign
Srinagar, March 22
The Houseboat Owners' Association has launched a campaign to spread awareness among residents as well as tourists about Dal Lake. Raw sewage, land encroachment and years of neglect have threatened the survival of the lake.
Revenue records
DC warns field staff against fake entries
Udhampur, March 22
Amidst allegations that field staff of the Revenue Department has been doing fake entries in revenue records to give benefits to some influential people, the Udhampur Deputy Commissioner has directed tehildars and other field functionaries to accord priority in accomplishing the revenue-related work in time.
Boy killed, 16 hurt in road mishaps
Srinagar, March 22
A 10-year-old boy was killed and 16 were injured in road accidents in Kashmir today, a police spokesman said. The boy, Shahid Ahmad Bhat, died when he was hit by a truck plying between Nipora-Mirbaazar on the Srinagar-Jammu National highway, he said.
Search for site on to relocate Bomai Army camp
Srinagar, March 22
The state government has begun looking for an alternative site for an army camp in Bomai village which has been in the eye of a storm since firing by soldiers left two civilians dead last month.
Jawan commits suicide
Srinagar, March 22
An Army jawan committed suicide allegedly by shooting himself with his service rifle in the high-security Gupkar area here today.