BSP leader charged with violating poll code
Bathinda, March 27
Taking suo moto notice of a news item published in this newspaper along with a photograph on March 25, the District Electoral Officer, after a detailed inquiry, today, charged Narender Kashyap, general secretary, Bahujan Samaj Party (BSP) of violating model code of conduct.
Sukhbir lashes out at PM on PDS
Ferozepur, March 27
President of Shiromani Akali Dal (SAD) and Deputy Chief Minister Sukhbir Singh Badal has lashed out at the Congress-led UPA government for slashing the monthly ration quota of wheat/rice for the Above Poverty Line (APL) families under the Public Distribution System (PDS) to 12 kg per month before announcement of the Lok Sabha elections.
Women top priority for Harsimrat
Mansa, March 27
The SAD candidate from Bathinda constituency, Harsimrat Kaur Badal today launched her poll campaign in Mansa. The party workers accorded her a warm welcome at Bhikhi.
BMC opts for go green policy to boost tree cover
Bathinda, March 27
Aiming to kill two birds with one stone, the Bathinda Municipal Corporation (BMC) has adopted the "go green" policy under which hundreds of trees of various varieties are being planted throughout the city.
Gram Sewak booked for NREGA fraud
Bathinda, March 27
A Gram Sewak of Bhunder village has been arrested for illegally making alterations in the cards issued under National Rural Employment Guarantee Scheme.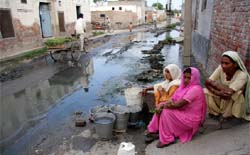 Clogged drains a health hazard
Bathinda, March 27
More than 40 years after the sewerage system was laid in Bathinda, the entire city is yet to be equipped with this basic civic amenity. Even at places where the sewerage system was laid, it is not functioning properly, posing health hazards to the people.

Women in Dhobiana Basti get their supply of drinking water amid the sewage. Tribune photo: Kulbir Beera
Govt employees to intensify stir
Moga, March 27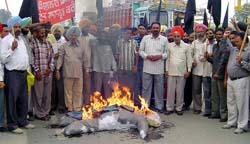 The employee activists of the Punjab Subordinate Services Federation, on a call given by the Punjab and UT Employees Action Committee, carried out a protest march against the SAD-BJP government holding black flags through the main streets of the town. they also burnt the effigy of the Chief Minister, Parkash Singh Badal, here today.
Government employees burning an effigy of the Chief Minister in Moga on Friday. A Tribune photograph
Aided school teachers demand pension benefits
Moga, March 27
The employees and teachers of the government aided schools carried out a separate protest rally against the SAD-BJP state government demanding to give pension benefits to the retirees here, today.
Para-medics point to perils of healthcare privatisation
Fazilka, March 27
A meeting of the representatives of different blocks of the district Ferozepur of Co-ordination Committee Para Medical and Health Employees, Punjab, was held at the local Civil Hospital to discuss the long-standing demands of para-medics. The meeting was presided over by the multipurpose Health Workers Union, district Ferozepur unit president, Danu Ram. The meeting was also attended by the Co-ordination Committee State Chairman, Ravinder Luthra and the press secretary, Shashi Kant.
Farmers block water channel to save crops
Abohar, March 27
The police had to intervene after tension flared up in Abohar sub-division with farmers blocking the sewerage water channel at Killianwali road here to save their fields after incessant rain on Friday.
Seminar on female foeticide
Bathinda, March 27
A seminar on female foeticide was organised in Bathinda today. Members of the Indian Medical Association, ultra sound centre doctors, CDPOs, nursing college students and social and religious organization members were present on the occasion. Civil Surgeon, Bathinda, Dr Neelam Bajaj asked the doctors not to determine sex. "We can stop this menace together," she said. The Civil Surgeon also appealed to the social organizations to spread awareness about this menace among young girls so that they can help in curbing the practice. — TNS
Talent hunt
Bathinda, March 27
The education department is organising a talent hunt for government school children of Classes I to X on April 4. Students will be given a topic and they will be asked to write a story on it and draw a picture. The student who compete will participate in a state-level competition. Their work will be published in National Book Trust magazine.
— TNS
World Theatre Day observed in Abohar
Abohar, March 27
The members of the Students Revolutionary Association observed the World Theatre Day today by staging a street play "Sadak Par". The play was staged first at the Rani Jhansi Market. The artists including Sarthak, Jayesh, Anmol, Pragam, Piyush, Vishwas, Sahil and Aditya sought to express regrets over the rush for dirty movies. People were found vying for free entry to the play staging which had incurred huge expenses. — OC