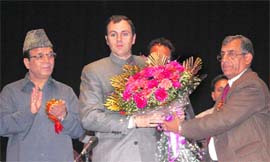 Yashpal Gupta, president of the Associated Chamber of Traders Federation and the Federation of Retailers Association, presents a bouquet to Chief Minister Omar Abdullah during a felicitation function at Jammu University on Friday. Tribune photo: Inderjeet Singh
Mining stopped as highway
sinks
Assar (Ramban), March 27
Even as the authorities have stopped the extraction of gypsum from the mines of Koura Pani following the sinking of a large portion of the national highway 1B, near Trungal, some houses in four villages in the mountains have developed cracks due to the weakening of rocks.
TV Scam
More revenue officials likely to be arrested
Rajouri, March 27
The police is likely to arrest more employees of the Revenue Department for selling articles meant for anganwadi centres, schools and panchayat ghars to private persons in the Darhal area. The Rajouri police had arrested a department employee more than a fortnight back.
Credit Card Scam
Namibian's Delhi flat raided
Prominent Jammu businessmen grilled
Jammu, March 27
After unearthing a big credit card scam here on March 22, the Crime Branch has raided the flat of a Namibian, Hardie Temmy Wesley Adisa, from Oyo state in Mohammedpur area of RK Puram in New Delhi.
PC's letter a poll gimmick: Refugees
Jammu, March 27
West Pakistani refugees have termed Home Minister P Chidambaram's letter to PCC president and Union Minister for Water Resources Saif-ud-din Soz as a poll gimmick.
Weather hampers Army operations in Gurez
Three militants arrested
Srinagar, March 27
The Army has apprehended two Hizbul Mujahideen militants, Parveez Ahmad Wani and Irfan Ahmad Rather, both residents of Bandipore, from a bus stand in Pattan, while another militant Mudasir Ahmad Wani was nabbed in Keeri.
Varsities need to work closely, says Vohra
Jammu, March 27
Governor NN Vohra and Chief Minister Omar Abdullah have stressed the need for greater coordination between universities for sharing resources, bringing together knowledge and expertise and building synergies for effectively addressing the requirements of higher studies.
More Dogri teachers sought
Jammu, March 27
The Dogri Sanstha, Jammu, has accused the state Education Department of giving a step-motherly treatment to Dogri and demanded the appointment of Dogri teachers at college and school levels for propagating the subject.
Girl marries 'kidnapper'
Jammu, March 27
The alleged kidnapping of a Muslim girl Anjum Ara (20) by Khem Raj (24) from Nagrota has taken a U-turn with the couple moving Patiala House Court in Delhi.
7 factory workers sustain burns
Jammu, March 27
At least seven workers sustained burns in a fire in a factory in Samba, 38 km from here, this morning. Official sources said a fire broke out in one of the chambers of Bharat Boxes, a factory in manufacturing mosquito-repellant coils, around 3 am
Send troops to barracks, says Mufti
Srinagar, March 27
Addressing party workers here today, Mufti Mohammad Sayeed said the PDP not only gave a sense of security to the people but also worked towards their political and economic emancipation. He held that because of the PDP's pro-people policies people across the state were feeling empowered to raise their voice against the injustices they were subjected to over the years.
Annual day
Udhampur, March 27
Government College for Women, Udhampur, celebrated its annual day function here yesterday. Commissioner/Secretary, Higher and Technical Education, NK Verma was the chief guest while Director, Colleges, Department of Higher Education, ND Wani presided over the function.
Met forecasts volatile weather
Srinagar, March 27
As a refreshing sunny day yesterday was followed by yet another day of overcast sky and rains, the Met Department said weather would continue to be volatile in coming days as another spell of western disturbance was approaching the valley even as the one overhead was passing by.
Academy to promote folklore
Jammu, March 27
The Jammu and Kashmir Academy of Art, Culture and Languages has decided to work on showcasing rich folklore, music and dances of all three regions of the state.
It's not jehad but zulm, says ultra-turned maulvi
Hafrada, March 27
Being a maulvi, Illumdin knows about jehad. And being a former militant, he also knows how the holy word is abused for political ends. His anger for wanton terror acts of militants boiled over as he surveyed the dismantled house of a poor shawl trader in which an escaping LeT barged into three days back. And the anger soared as he went to help the Army bring the bodies of six slain militants down the forests.
Tourist flow declines
Srinagar, March 27
Even as the government has beckoned tourists to Kashmir with the opening up of the sprawling Tulip Garden, a meagre 10 per cent occupancy in hotels and houseboats presents a dismal picture with little indications of any increase in the coming months.
Hizbul militant shot
Rajouri, March 27
Security forces reportedly gunned down a suspected Hizbul Mujahideen militant in the ongoing encounter in the Baji Maal forest area of Kalakote here this evening.
Need for holistic approach towards disabled
Jammu, March 27
Discussions and knowledge were not enough and a holistic and comprehensive approach is required to deal with disabilities. This was stated by the first lady, Usha Vohra, while speaking at the inaugural session of the two-day workshop organised by MIER campus on Summit of Minds on the United Nations Conventional Rights of Physical disability.
Ex-servicemen hold rally
Jammu, March 27
An ex-servicemen's rally was organised by the Army at Mandal border village today. Inaugurating the rally Major-Gen DL Choudhary, GOC, Tiger Division, said ex-servicemen were a recognised source of motivation for society, especially in the remote border areas. The response to the rally was very encouraging. A large number of ex-servicemen briefed with the GOC about their problems. — TNS
J&K Bank to open on Sunday
Jammu, March 27
The chief engineer of the Power Development Department, Jammu, has asked the electricity consumers to pay their dues as all designated branches of Jammu & Kashmir Bank will remain open for the purpose on March 29 (Sunday). All consumers have been requested to make payments of their electricity dues. — TNS