Assembly losers now vie for LS
Udhampur, March 29
Despite Congress candidate Choudhary Lal Singh, BJP candidate Nirmal Singh, PDP candidate Balbir Singh and Panthers Party nominee Bhim Singh having lost the recent Assembly elections from different constituencies, they are seeking the people's mandate yet again to enter the Lok Sabha.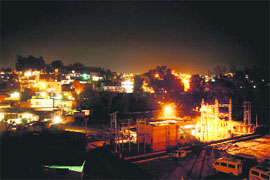 Earth Hour: Jammuites show indifference
Jammu, March 29
With a view to protect the Mother Nature from global warming, last evening global population observed World Earth Day but here in Jammu people showed their mixed reaction for observing the day.


Even as the world observed 'Earth Hour' from 8.30 pm to 9.30 pm on Saturday, the period was observed more in breach in Jammu as this photo suggests. Photo: Inderjeet Singh

Former terrorists under security radar
Udhampur, March 29
With the arrest of three former militants, who have rejoined terrorist outfits, security agencies have launched a joint campaign to keep surveillance on all militants who were either released from jails or had surrendered recently in Doda and Kishtwar districts.
Lashkar reach grows in Kashmir
Srinagar, March 29
It was only ironical that Yusuf Mir, a student of MCA, decided to switch his comfortable life in Littar village in Pulwama for a stint in the Lashkar-e-Toiba on Republic Day this year. A day after which he was not seen came confirmation to the family from the police. Son of a bank official, Mir's joining the LeT is attributed by security officials to the steadily increasing influence of hardcore Pak outfits in a large swathes of south Kashmir.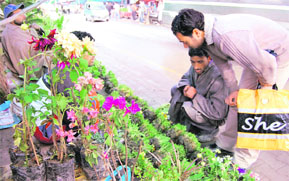 A youth purchases flowers and plantlets at Lal Chowk in Srinagar on Sunday. Tribune photo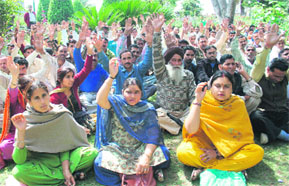 Members of the National Mazdoor Conference protest in support of their pending demands in Jammu on Sunday. Tribune photo: Anand Sharma

Remarks on stone pelting
Geelani flays Maulana Showkat
Srinagar, March 29
A religious debate on whether stone-pelting by protesters on security forces is an un-Islamic act as declared by Ahle-Hadith leader Maulana Showkat has divided squabbling separatists along political lines. Maulana Showkat had quoted Islamic books to claim that the act was specifically forbidden and crowd should desist from such wanton expression of anger.
Leela Karan kickstarts campaign
Jammu, March 29
BJP candidate for the Jammu-Poonch parliamentary constituency, Lela Karan Sharma, kickstarted his campaign by addressing the gatherings at various villages under the mass contact programme, along with MLA Ch Sukhnandan at Sangrampur, Patyalichak, Parwah, Nagwani Morh, Halka, Marh, Jaswan, Bachiyaal, Kuntwala, Gurha Singh, Shamachak, Kalyanpur, Kanachak, Lalyal, Gaitla, Galwaddey, Gajansoo, Ratanpur, Sangachak, Saharan, Lorichak, Suhagni, Chagdali, Pangori and Nai-Basti in the Marh Assembly constituency to get united to end 60-year-old discrimination at the hands of Kashmir leaders.
Patwari, ex-custodian sent to jail
Land allotment on forged affidavits
Jammu, March 29
Deciding three cases regarding the allotment of land on forged affidavits in years 1993 and 1994, Special Judge, Anti-Corruption, Jammu, BL Bhat, has awarded one year's rigorous imprisonment and imposed a fine of Rs 10,000 each under the Prevention of Corruption Act and six months' rigorous imprisonment and a fine of Rs 5,000 in each case under Section 120-B of the RPC to then custodian Abdul Majid and patwari Fazal Din.
Jobs in central forces no more a taboo in valley
Srinagar, March 29
The rare outpouring of pro-India sentiments in a Kashmir village over the death of an Army jawan, who was killed in the Kupwara encounter and hailed from Ganderbal, is indicative of the change in image of the Army as an employer has undergone here.
Zargar for proper implementation of NRHM scheme
Srinagar, March 29
The Sher-e-Kashmir Institute of Medical Sciences (SKIMS), Soura, cannot become a complete tertiary healthcare institute if the National Rural Health Mission (NRHM) Programme is not implemented in letter and spirit, director of the institute Prof Abdul Hameed Zargar has said.
On a shopping spree during Navratras
Jammu, March 29
As purchasing new items during the Navratras is considered auspicious, local residents are on a shopping spree. People have been purchasing new clothes, electronic and household items. Some of them are booking and purchasing new vehicles.
Border Fencing
Farmers happy with realignment
Kathua, March 29
Farmers who had lost their agricultural land to border fencing in Kashmir are happy with realignment of fencing border.
DRDA meeting reviews rural works
Rajouri, March 29
The governing body meeting of the District Rural Development Agency (DRDA), Poonch, presided over by District Development Commissioner, Poonch, Muhammad Afzal, reviewed various ongoing rural works under various centrally sponsored schemes in the district.
Coalition govt power hungry, says Mufti
Jammu, March 29
Terming the Congress-NC coalition as an opportunistic alliance, former CM and PDP patron Mufti Sayeed said today the coalition had not yet publicised its agenda or Common Minimum Programme.
Governor for early completion of hospital
Jammu, March 29
Governor NN Vohra has called for completion of the Cancer Hospital, which is part of Shri Mata Vaishno Devi Institute of Medical Excellence (SMVDIME), Kakryal, by December.
Need to popularise farming: VC
Srinagar, March 29
Maintaining that agriculture continues to be the backbone of the state economy and a main source of livelihood for a large number of people, Vice-chancellor, Sher-e-Kashmir University of Agricultural Sciences and Technology, K Anwar Alam said there was a dire need for continued strengthening of agriculture among the youth.
Girl's head found
Srinagar, March 29
Villagers recovered the head of a girl today, who was dragged into forest from outside her home by a leopard, on Friday. Agitated villagers blocked road and raised slogans against the wildlife officials over the death of Khalida (10), daughter of one Maqbool Lone. Khalida was picked by the leopard from outside her home in Baramulla village.