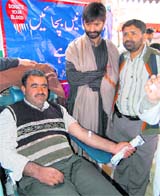 A man donates blood as JKLF chairman Yasin Malik looks on at a blood donation camp in Srinagar on Wednesday. A Tribune photograph
Assembly staff working for ministers, MLAs
Speaker assures stern action
Jammu, April 1
In a brazen instance of undermining the constitutional authority of the state Legislative Assembly, most of the ministers and legislators of the NC-Congress coalition and even some former legislators have engaged over 40 employees of the Assembly Secretariat for their works, both official and personal.
Tribune Impact
Billawar ration scarcity to be probed
Jammu, April 1
The Consumer Affairs and Public Distribution (CAPD) Department authorities today ordered a probe into the artificial scarcity of ration in the Billawar area of Kathua district.
2 poll officials suspended
Jammu, April 1
The Assistant Returning officer (ARO), Gandhi Nagar Assembly segment of the Jammu Parliamentary constituency, here has ordered suspension of accounts officer, PMU, ERA, M Y Wani and junior assistant, ZEO Office, Marh, Ramesh Kumar for dereliction of election duties.
Only 2,865 Pandits in Kashmir
Srinagar, April 1
The rhetoric from mainstream as well as separatist leaders for the return of Kashmiri Pandits to their homeland gets only shriller with passing time, but on the ground their already minuscule population is decreasing.
PDP candidate files papers
Jammu, April 1
PDP candidate for the Udhampur-Doda Lok Sabha seat Thakur Balbir Singh today filed his nomination papers in the presence of a large number of supporters and party workers.
Bhim intensifies campaign
Udhampur, April 1
Prof. Bhim Singh, chairman of the Jammu and Kashmir National Panthers Party, has intensified his election campaign in the Reasi, Mahore, Gulabgarh, Gool areas in Reasi and Ramban districts. Addressing public meetings at Reasi, Salal, Arnas, Mahore,Chhajru, Budan, Gool, Prof. Bhim Singh praised the people of the area for keeping up their secular traditions alive in spite of militants killing several people in the area.
CM reviews Nowgam TRC work
Jammu, April 1
Chief Minister Omar Abdullah reviewed the progress of construction of a tourist facility center coming up at Nowgam, near Srinagar, at a meeting here today.
Bhaderwah: PDP to field Mujib Ali
Jammu, April 1
The PDP has constituted two campaign committees to intensify poll activity in the Jammu-Poonch and Udhampur-Doda Lok Sabha seats.
Tulip garden thrown open
Jammu, April 1 Prof IA Hamal, Rector, Jammu University's Bhaderwah campus at Sungli, said the campus' tulip garden has been thrown open to public daily between 3 pm and 5 pm.
PDP to name LS nominees on Sunday
Srinagar, April 1
PDP patron and former Chief Minister Mufti Mohammad Sayeed is being tipped for the Anantnag Lok Sabha constituency. The seat was earlier represented by his daughter and PDP president Mehbooba Mufti, elected to the Lok Sabha for the first time in 2004. She had recently vacated the seat following her election to the Legislative Assembly from Wachi in Shopian district.
Vohra urged to act against unrecognised educational institutes
Jammu, April 1
Expressing concern over the mushrooming of non-recognised private educational institutions, the National Secular Forum (NSF) has urged Governor and Chancellor N N Vohra and Chief Minister and pro-chancellor Omar Abdullah to take cognizance of the matter.
Abducted girl rescued
Srinagar, April 1
A girl abducted by two persons was rescued by the police who arrested one of the abductors. The police said the girl was picked up and bundled into a Maruti van. A traffic cop informed the police about the incident.
Governor briefed
Jammu, April 1
The Army Commander, Northern Command, Lt Gen. PC Bhardwaj today met Governor NN Vohra and briefed him about overall security situation in the state.
JU students hold protest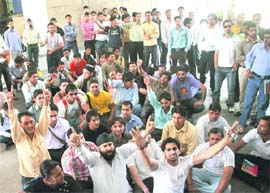 Jammu, April 1
Students of Jammu University (JU) held a protest today against delay in the submission of the inquiry report in the March 20 shootout on the campus. The protesting students assembled near the administrative block this morning and shouted slogans against the committee members for delaying the inquiry report. "The committee was supposed to table its report within one week, but it has deliberately delayed it to shield the accused," they alleged.
Students hold a protest at Jammu University on Wednesday. Photo: Inderjeet Singh
Film fest a big draw with schoolkids
Srinagar, April 1
Twelve films were screened during the third Shehjaar Children Film Festival with children from various schools from across the Kashmir valley enjoying its every bit.
BJP promoting communalism: Soz
Rajouri, April 1
Indirectly holding the BJP responsible for the alleged hate speech made by Varun Gandhi, Jammu and Kashmir Pradesh Congress Committee (JKPCC) chief and Union Minister for Water Resources Saifuddin Soz yesterday said he (Varun) was made to make such speech. He was addressing series of election meetings in this frontier district in support of Congress candidate and sitting MP from the Jammu-Poonch Parliamentary constituency Madan Lal Sharma.
Separatists flay Lahore attack
Srinagar, April 1
Former chairman of the Hurriyat Conference Abdul Gani Bhat has stated that the terror attack in Lahore was more horrible in the sense that the terrorists got into a police academy where cadets were engaged in a morning parade.
BJP fumes at NSA on Varun
Jammu, April 1
The BJP has taken a strong view against the imposition of the NSA Act against Varun Gandhi for making alleged hate speech in Pilibhit. State party spokesperson Ramesh Arora said this act was not meant for political leaders.
Meter-testing lab to address power complaints
Jammu, April 1
The Power Development Department in cooperation with the Government College of Engineering and Technology, Jammu, has established a meter-testing laboratory in the Electronic and Communication Department of the college. The laboratory has been established to check the complaints of consumers.
Play bags 7 awards
Jammu, April 1
The Viraat Socio Cultural Society in its maiden foray into the recently held Jammu Drama Festival made a clean sweep of all top awards. Eleven plays in different languages and dialects were staged here during the festival organised by the Jammu and Kashmir Academy of Art, Culture and Languages.
Ultra killed in encounter
Srinagar, April 1
One militant was killed in an encounter in Kupwara today, the police said. A joint security team zeroed in on militants at Pate Dari top at Warnoo under Lalpora police station but was fired upon by ultras. The ensuing encounter was still on.