World Autism Awareness Day
Autism can't be ignored any longer
Neena Sharma
Tribune News Service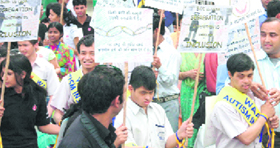 Social activists and autistic children participate in a rally at Gandhi Park in Dehradun on Thursday. Tribune photo: Vinod Pundir
Dehradun, April 2
Microsoft founder Bill Gates once suffered from asperger's syndrome, a form of autism. So do several absent-minded professors around whom college and university anecdotes are woven.
In it's more serious form, it can impair social interaction and communication. The problem of autism, a development disorder in children, is growing in the state. So much so that every school is feared to have at least one autistic child, if not more.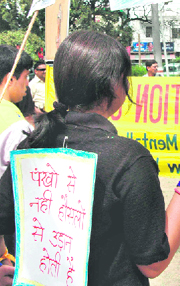 Social activists and autistic
children participate in a
rally at Gandhi Park in
Dehradun on Thursday.
Tribune photo: Vinod Pundir
In the absence of awareness and trained psychologists, the problem remains undetected. Experts are fed up with the the government that refuses to recognise the problem and not even consider it as a disability (autism does not figure in the Physical Disability Act (PDA).
Social activists turned out in large numbers on World Autism Awareness Day today at a rally at Gandhi Park.The United General Assembly has declared April 2 as World Autism Awareness Day.
Children suffering from autism have impaired social interaction; their actions and activities may be often repetitive and restrictive.
Piyo Lall, head, special education, Raphael Ryder Cheshire International Centre, emphasised that autism can be tackled better if schools begin catering to autistic children. "As the Physical disability Act does not mention autism, the children are denied a disability certificate. In that sense they are at a disadvantage," she explained.
It may be mentioned that the national trust for the welfare of persons with autism, cerebral palsy, mental retardation and multiple disabilities has appointed Raphael as its State Nodal Agency Centre (SNAC).
Uttarakhand has only recently begun focusing on schools for the mentally challenged with schools proposed at Pithoragarh and Haridwar.
To treat children, parents should be cooperative. The children have to be handled by special educators along with speech therapists.
Experts say if detected early, an autistic child can respond to treatment and can hope for better adjustment in society.
"As things stand today, one out of 130 children is autistic. Special education experts attribute it to environmental and other factors as well as genetic pre-disposition. The intellectually challenged children often do not have schools and the right environment at home. It is here that special schools and learning centers can be of help. They can enable children to adjust better to environment," said Saswati Singh, founder of Inspiration that conducts programmes for children with autism.
At this centre, the children are given diet therapy and alternative therapies to control impulsiveness and aggression and later training in self-help and life skills. The Central Government has started Nirmalya Health Insurance Plan.
The scheme is being implemented in Bageshwar district of Uttarakhand.The plan is for the welfare of persons with autism, cerebral palsy, mental retardation and multiple disabilities so that they can get quality medical services.
It is a cashless scheme. The individual under the plan need not pay anything for the services offered if admitted to hospital with expenses covered up to Rs 1 lakh. It also covers OPD services.
The premium on the insurance schemes is paid by the national trust for the below poverty line persons.
Those above the poverty line can also avail this facility by paying a premium. To treat autistic children, parents should insist on inclusive education.
Jo Chopra, founder of Karuna Vihar, emphasised on the need for making autistic children independent so that they can adapt to societal needs.
"People with a disability do not want to be treated as passive with no choices but want to be part of community. After attending to their needs, the next step should be making them independent," she said.
On a visit to Doon recently, Poonam Natrajan, chairperson, national trust for the welfare of persons with autism, cerebral palsy, mental retardation and multiple disabilities, interacting with parents and social activists, had emphasised that the disability medical model, that said the disabled needed separate medical care, was being discarded for a social model.
The latter, she explained, advocated giving opportunities to them alongside looking after their special needs so that they could lead independent lives.
Social activists say social therapies started early have proved to be useful in certain cases of autism.
"In some cases children who cannot synthesise large protein remain in a dazed state. High levels of metal like mercury and lead in children affect the functioning of their brain. Diet therapy at our centre helps such children get over the problem," said Saswati Singh.